Page 69
DarkChibiShadow on June 30, 2010
NGHHHHHH RRRRR SUMMER.

I WOULD GRAB SUMMER LIKE LANCE IS GRABBING JAKE IF I HAD THE CHANCE.

SO, DISTRACTED.

CAN'T, SAY, SORRY, ENOUGH.

SORRY AND THANK YOU ALL.

FEEL FREE TO KILL ME ANYTIME YOU LIKE FOR NO UPDATES CUZ SUMMER IS JUST HECTIC WITH LOTS OF STUFF I HAVE TO DO.

RGHHHH.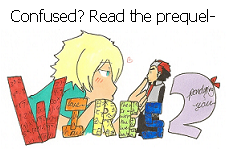 Donation/Comission Info.
For the set amount you get the set item, and you can request anything! Adult pictures will also be uncensored! (You could finally see Wasso's dick if you wanted!) Just PQ me or e-mail me at colinxzain@hotmail.com when you donate with your request and I will get it to you as fast as I can!
Regular Offers:
$1 - Pencil Sketch
$5 - Inked and Toned Picture
$10 - Full Color Picture
$30 and up- 10 Page manga of choice
Special Offers
50 Cents- A SWEET DRUNKDUCK ICON OF YOUR CHOICE
$7.45 - A Mini Comic
Negotiations are available, just talk to me.
Disregard if you don't care, I won't hold it against you.