Random Discussion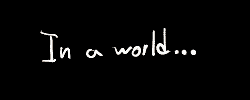 "The only moral it is possible to draw from this story is that one should never throw the letter Q into a privet bush, but unfortunately there are times when it is unavoidable."
-Douglas Adams, The Restaurant At the End of the Universe
last edited on July 14, 2011 4:28PM
Hawk
at 6:32PM, Dec. 21, 2009
I love magic tricks and optical illusions. That was an awesome video.
last edited on July 14, 2011 12:47PM
Aww I couldn't follow the cup it was too laggy on my computer T_T
last edited on July 14, 2011 4:52PM
Well I guessed correctly where the cup was but…wow. That was weird, and cool.
Duchess of Friday Newsposts and the holy Top Ten
Have a comic milestone, a community project or some comic-related news you'd like to see in
a newspost? Send it to me via PQ or at hippievannews(at)gmail.com!
last edited on July 14, 2011 12:49PM
©2011 WOWIO, Inc. All Rights Reserved