Comic Talk, Tips and Tricks

Updates every Tuesday!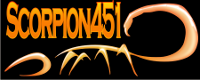 Visit my deviantArt page to see some of my artwork and what I'm up to when I'm playing the not-working-on-my-webcomic game
I know I've posted in here before, but I've recently updated my DA.
http://mishi-unloved.deviantart.com
Now, I'm taking commissions. I'll even draw comics ~ for a price.
last edited on Sept. 3, 2011 10:05PM
Reashi
at 7:00PM, Dec. 29, 2011

last edited on March 12, 2012 8:03PM
SLK8ne
at 1:26PM, Oct. 16, 2012
http://tilthenext6months.deviantart.com
Every 6 months I do routine username changes since I've been getting a lot of premium membership gifts from friens and fans, so expect this to be around til summer– then I'll probably change it again. xD Keep this url handy!
"Keeping Up with Thursday" - Updated Every 3 Days!
"ZombieToons Must Die" - hiatus. D:
last edited on April 20, 2013 2:45PM
©2011 WOWIO, Inc. All Rights Reserved