Random Discussion
facara
Running Anew an exercise blog.
I'm gonna love you till the money comes, half of it's gonna be mine someday.
last edited on July 14, 2011 3:30PM
It was cool and all, but it just seems a little too forced… if that makes any sense.

I still prefer the original: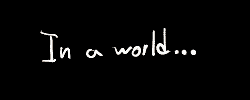 "The only moral it is possible to draw from this story is that one should never throw the letter Q into a privet bush, but unfortunately there are times when it is unavoidable."
-Douglas Adams, The Restaurant At the End of the Universe
last edited on July 14, 2011 4:28PM
lothar
at 8:53AM, Aug. 3, 2010
last edited on July 14, 2011 1:45PM
I posted this one a while back. It feels more spontaneous, in my opinion. Probably because there's no one singing in it.


Those were my two cents.
If you have any other questions, please deposit a quarter.

This space for rent.
last edited on July 14, 2011 2:53PM
©2011 WOWIO, Inc. All Rights Reserved Google+