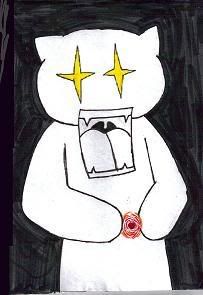 Name: Cat-Man-Chibi-Thingy
Age: I don't know. 20ish?
Height: 5'10"
Bio: He comes from a Cartoon universe. He was born to hibie parents. Thats how he got his name. He much rather have been named Bob. Being a self aware cartoon. Cat-Man-Chibi-Thingy did the only thing reasonalbe that was start a random comic strip. He wanted to be a comedian super star. Like Garfield. But he could never make it big.
Weapon:Cartoon Physics.
Occupation: Cartoon Character.