Wow, this sucks. Now Hershey Park won't smell like chocolate anymore, I'm guessing– unless they pipe chocolate scent in, which is probable. And they might have to make the "Hershey's Chocolate Tour" ride bilingual. Also the job thing. Milton Hershey would be ashamed.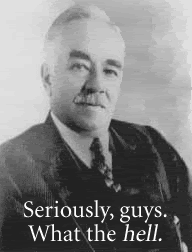 …Although I personally kind of like Hershey's chocolate. I grew up on the stuff. Also, when we went to England back in November of '05, the candy there was terrible. They had these things, called Smarties, that were pretty much like the worst imitation of M&Ms ever– like those cheap generic M&M knockoffs that come in the "Candy Festival" bags you always see in run-down convenience stores. British people, you have a lot to answer for in the candy department. (Also, you guys are not so good at slick packaging design, either. A garish purple hexagonal cardboard tube? Novel, but highly impractical, my friends. Stick to glossy paper bags in warm colors.)
And yes, I know M&Ms are made by M&Ms/Mars, not Hershey, so don't bring it up. I was just proving a point, which is that "Hershey's Chocolate Tour" is easily,
easily
the best ride at Hershey Park, hands down. (It teaches you how they make chocolate! And you get a free chocolate bar at the end! Does the Great Bear or the Superduperlooper provide as deliciously educational of an experience as the Tour? No. No they do
not.
)