Comic Talk, Tips and Tricks
how do you change the size of comics
I want to make my comics smaller whats the average size for each page
DON`t %^%& copy

grimeskimo.com


last edited on July 14, 2011 12:30PM
kyupol
at 7:27AM, Nov. 13, 2007
last edited on July 14, 2011 1:25PM
For what it's worth, I'm also now using the 600 pixel width format, because my old format of 800 pixels width made it look as if the characters were going to jump from the monitor screen and lunge for my throat.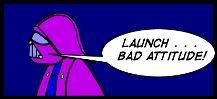 last edited on July 14, 2011 11:40AM
marine
at 3:39PM, Nov. 13, 2007
I use 550x700. Its always looked big on my screen, and I keep mine set to 700x1000, which I've heard is what most people use. My comics look tiny on higher screen resolutions.
last edited on July 14, 2011 1:53PM
©2011 WOWIO, Inc. All Rights Reserved Google+