Comic Talk, Tips and Tricks
How do you sort out the swatch palette for Adobe Photoshop CS?
kyupol
at 9:14PM, Oct. 21, 2007
I got like a poorly arranged swatch palette and I want to re-arrange it. How do you do it?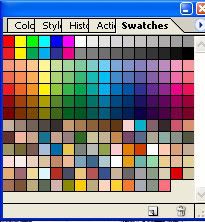 last edited on July 14, 2011 1:25PM
Click on the little arrow on the top right there and choose "preset manager". You can organize and re-name them from there.
kyupol
at 11:02PM, Oct. 21, 2007
tnx for replying.

But I was just wondering if theres a way to auto arrange it by hue or something?
last edited on July 14, 2011 1:25PM
Well it helped ME atleat :)
I never realised about that and I've been using the damn programs for years…

I organised my colours by sight now :)
It's still pretty clumsy, but better than it was! Now to organise my brushes…
last edited on July 14, 2011 2:28PM
Glad it helped someone. lol!

I have mine organized by character and alphabetically, and set to display with the name of the swatch next to it, instead of all little boxes like that. It took forever to get them set up, but it was totally worth it.
Darwin
at 11:59AM, Oct. 22, 2007
In addition you can drop custom colors onto the pallete and name them as you like. Kinda but not really off subject.

I've found you can widen or narrow the box their in and they will rearrange in different orders. I have like hues all very close together…
last edited on July 14, 2011 12:08PM
©2011 WOWIO, Inc. All Rights Reserved Google+