Random Discussion

last edited on July 14, 2011 3:36PM
Marvel was necessary during the 1960s and 1970s because effectively DC held a monopoly over mainstream superhero comics and were growing moribund and fearful of change. Marvel ripped the top off the imagination vault and allowed a competitive universe of superheroes to flourish. But a business is a business is a business, and inevitably Marvel was itself doomed to become so large and wealthy and successful that it grew moribund and fearful of change.

That nasty old bottom line that bean counters point to and shake their head, indicating that bean money and no cut of the royalty pie is just about what a benevolent and seriously struggling company can afford to pay out while, of course, the corporate big wigs are paying themselves stupendous wages for very little in the way of actual work. So, yeah, big names were eventually going to jump ship.

The thing is, though, that the Marvel business hacks are correct in that relatively young and talented and hungry art wolves will eagerly step forward to fill the vacated art desk and monitor screens with new work. The net effect on Marvel is a growth benefit because they won't have to pay the hungry youngsters anywhere near the old wage scale. When they become wise and angry art veterans themselves, their replacements will already be on hand.

In the long run it simply means that the creative golden era of Marvel is gone, and although they will neatly co-fill the niche of evil twin monopolists the real innovation will come from the independents and their shoe-string companies. Marvel, of course, will simply copy their successes and produce the same heroes and heroines and storylines with serial numbers filed off and names changed.

The irony is that as long as sales are high the Marvel business pimps will never comprehend that they are getting by on sheer weight of momentum and not by being cutting edge and daring.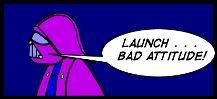 last edited on July 14, 2011 11:40AM
creativity has pretty much left superhero comics…notice all the rehashing and relunching and rebooting of old characters. there was good stories with marvel knights, but latetly…meh.
Yep. When's the last time Malibu put out a book?! Great concept, but not enough investors!
last edited on July 14, 2011 12:35PM
Wow. "Creative people are secondary to the comic book characters"? Dude, didn't know Marvel had that kind of philosophy. Thanks for loading this.
last edited on July 14, 2011 2:47PM
WHAT THE HECK?!
hahaha
anyone else notice scott rosenberg being interviewed??
maybe this will ring a bell
i didn't catch that the first time i watched the video.
if you don't know what i'm talking about it's the guy that owns platinum studios that owns DD.
lol
It's hard to come up with new superheroes. Im still working on the story for mine.
last edited on July 14, 2011 1:22PM
last edited on July 14, 2011 2:46PM
©2011 WOWIO, Inc. All Rights Reserved Google+