I've been putting together a reference folder, and I just thought that it would be nice if I shared some of it with people who need it :) I've got various different things in there, from facial expressions, to fighting moves, to animals, to furniture. Also, I draw all the pictures myself so they're in my style, but I copy most of them from photos, books, etc.
So if you need anything just ask and I'll see if it's in my folder. If it is I'll post it here for you, and if it isn't I'll see if I have time to get some references for you. Some of the pages I've made only have 1 or 2 pictures, but I'll try and make sure there are at least 3 pictures of what you ask for. Also, I'm sorry but don't ask me for naked people or stuff for sex scenes because I don't like to draw that lol.
I'll put an example page here for you to see.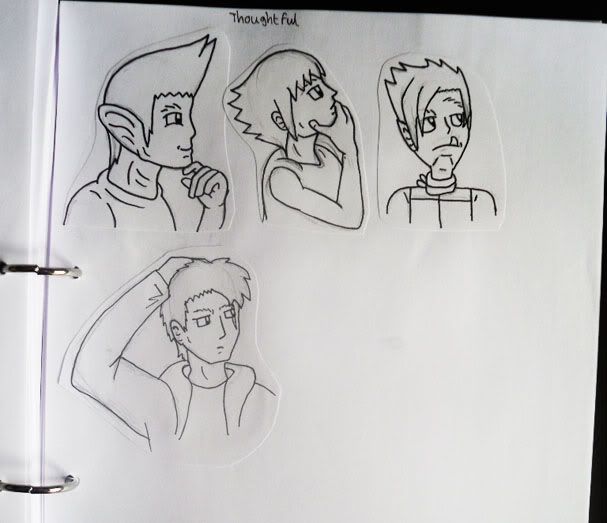 So that's my page so far for thoughtful expressions. As you can see there's a bit of variety, they're clearly thinking about different things. For example the one on the top left could be talking to someone and thinking about something they've just said, maybe trying to work out someting about their character. The next one along is probably thinking about something a little more serious, he has possibly seen something that has confused him in some way, and is now trying to make sense of it. The third one along could be trying to come up with a plan, possibly. The one on the bottom left could possibly have woken up after a night of drunken craziness and is now trying to remember what he did lol.
I copied the first picture from a poster, the second from a book (The Complete Book Of Drawing Manga, by Peter Gray), I'm pretty sure I made up the third one, and the last one was copied from a magazine.
So yeah, if you think I might be able to help feel free to ask :)