Random Discussion
Mario has a bad day *Mild NSFW*
He gets ticked and starts cussing, so… yeah.





Also, this one was funny.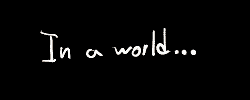 "The only moral it is possible to draw from this story is that one should never throw the letter Q into a privet bush, but unfortunately there are times when it is unavoidable."
-Douglas Adams, The Restaurant At the End of the Universe
last edited on July 14, 2011 4:26PM
I
I have a gun. It's really powerful. Especially against living things.

last edited on July 14, 2011 2:55PM
©2011 WOWIO, Inc. All Rights Reserved