So, yeah I am looking for fellow creators interested in doing art/link exchanges. If you are busy, no worries - I will still draw something for you, whether a pin-up, a character sketch, heck - I might even give a guest strip a try. All I ask for in return is a link. If you WANT to draw something in return, great! And you need not be a big comic or have lots of traffic - I want to create connections - and yes, generate traffic - but the networking and connections are more important.
I would buy ads in a heartbeat, but I am pretty dirt poor, so I figure that I can at least WORK for my pimpage, right?
Here are some parameters:
1. My comic is Adult/Mature/NC-17 (more for language and violence, so far, but there will be the odd love scene as well - it is NOT a porn comic (nothing against porn comics!), but just very gritty) and may not be a good fit for your audience. If you do a kids strip? Bad idea. Your comic need not be adult, but you know your audience better than I do. Keep that in mind.
2. My offered art will NOT be adult/mature unless YOU WANT it to be. Got a manga comic for teen+? I can work with that. Just because I have adult material in my comic does not mean I will bring it to yours. That would be rather rude.
3. I work black and white. No color. I USED to do color, but it sucked and took WAY too long. My black and white is grayscale shaded, however, and pretty damn decent, if I may say. I will offer samples in a sec.
4. Obviously, it will be your character(s) drawn in my style. I also do not expect you to mimic me if returning the favor with art of your own.
5. I request that you allow me a week to complete it. You may get it MUCH faster, but better safe than sorry.
6. You can use/do with it whatever you want - it is yours. I only ask that I be able to use it for sample/portfolio material, with linkage and credit to you where applicable.
I thank that covers it. Feel free to ask questions and make requests here, or PM me if you would rather it be private. I would LIKE to do it here so others can see the process and results.
Thanks!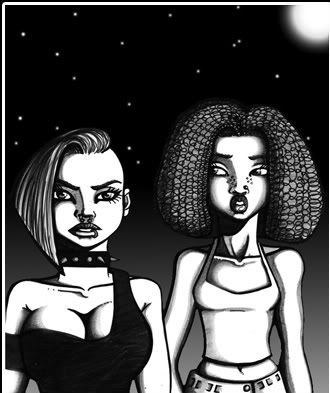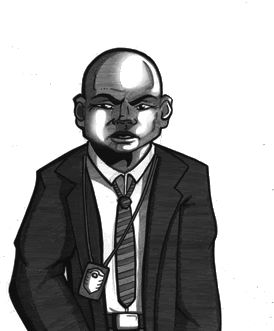 And two pieces I have done so far:
For
Ted Pax
:
And for
Ardra
: