Random Discussion
New animation from Tyler Ibele
lba
at 4:53PM, Feb. 17, 2009
Just found this while poking around on Vimeo. I don't think anyone here has seen it yet.
Hemlock
Hey buddy, you should be a Russian Cosmonaut, and here's why.
last edited on July 14, 2011 12:01PM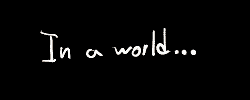 "The only moral it is possible to draw from this story is that one should never throw the letter Q into a privet bush, but unfortunately there are times when it is unavoidable."
-Douglas Adams, The Restaurant At the End of the Universe
last edited on July 14, 2011 4:27PM
lba
at 7:38PM, Feb. 17, 2009
I'll see if I can dig out the rest of the stuff I found by him then. He's got quite a bit of work out there actually. I think this guy is about to become one of the next big things so far as internet animators go.
lba
at 10:05PM, Feb. 19, 2009
That was fantastic work. Thank you for posting it. This guy will go far without doubt.

Oh and regarding the second two vids:

Cigarette was awesome but Trash (which had audio when I played it) made me sad.

With audio on you can hear the chipmunk at the end struggling for air as it suffocates.
Those were my two cents.
If you have any other questions, please deposit a quarter.

This space for rent.
last edited on July 14, 2011 2:50PM
lba
at 8:55AM, Feb. 20, 2009
My audio must just be goofed up then. I'll have to give it another play.
©2011 WOWIO, Inc. All Rights Reserved