So, if there's one thing that makes a satisfying prank, it's a prank against Harry Potter fans who have waited for over a year for this book to come out. So, I went around to the most into-it groups and asked them "Are you into spoilers?" Some would react, some wouldn't. If I got a nice negative (Or positive) reaction, I would claim I had a picture of the last scene of the new book. Whether they wanted to see it or not, I flashed them this picture for about one second before hiding it again: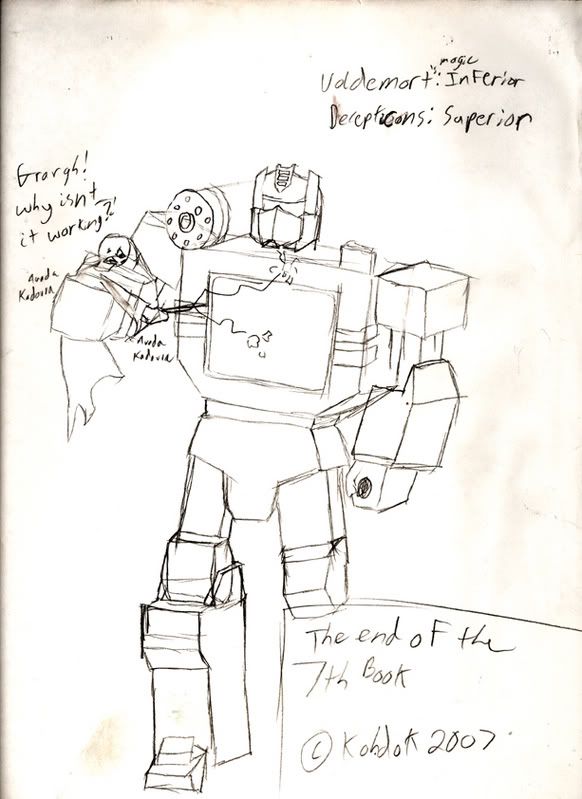 At it's best, the prank would get one or two people cowering who "Didn't want to see spoilers" a couple people going "What the heck" and at least one laugh. The best part was then the others would try to convince the people who didn't want to see spoilers that it was okay to look. It took a while, sometimes, but getting everyone else in on the joke proved to be quite satisfying. Eventually I got a little infamy and was approached by some people who wanted to see it.
Some of me favorite quotes:
"I…uh…I see they're taking it in a new direction."
"You scared me for a minute, there."
"I wanna see! I wanna see!…What the HECK it THAT?!"
"It really should end like that."
"You're gonna get beaten up some time, dude."
"Hey! That's Optimus Prime!"
And so on. It was probably the best prank I've ever done! lol!