Please DO NOT bring up 9/11 conspiracy stuff here.
PLEASE
discuss it in
THIS
thread instead.
__________________________________________________
I read a lot of alarming things in the news now, more and more. The U.S.A. used to pride itself on freedom and yet now the government there have made it ok for officers to freely confiscate people's phones, laptops and anything else of that ilk without any warrants and keep them for as long as they like. (I don't know the period, but it seemed indeterminate).
And around the globe we have people that go "missing" only to turn up in detention camps years later on very silly and obviously invented charges. During that secret detention they're regularly tortured and beaten, their families don't know where they are… If they're "lucky" they end up transferred to Guantanemo where the torture
isn't
quite as nasty. These are the sorts of tactics once regularly used in places like the U.S.S.R. fascist Chile etc, and decried in the United states.
The latest victim is Aafia Siddiqui
Before: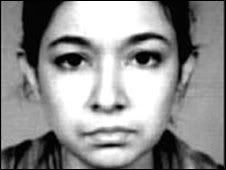 After: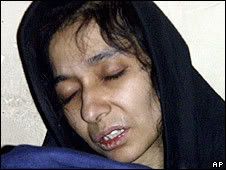 What is shocking to me, is now that the U.S.A. is virtually "openly" using these practises, on a large scale, there's no outcry there? I'm drawn back to that classic example… You know the one: Germany in the 1930's. A country full of sane, good, wonderful, educated people, and we wonder how they let those things start to happen, how did they accept those actions as normal and just go on like it was no big deal without too many people being upset about it?
This is
NOT
the same thing, but it
does
make me wonder that a people once to proud of real freedoms and so horrified at transgressions of personal freedoms in other countries have become so numb to that happening to themselves.