If people actually read tutorials and such, there would not be so many bad sprite comics, and there would be no need for me to post this. Whatever, I just feel like making some suggestions, or at least what I expect to see on sprite comics. This in not really a tutorial, since I won't explain with details how to do everything. I'm just comparing how things can be done when sprite comic making. And, if time allows me to, I think that I'll make more of this in the future (in this thread)
Common mistake #1: Backgrounds.
Here's the image. Look, and cry.
First one (Seizure-tastic): Believe me, there's no worse thing as a background for a comic than extremely brighty colors. This things may hurt your eyes (and it's worse when people don't use speech bubbles)
Second one (horrible): Having no background at all is better than having brighty backgrounds. But it's still bad. Where is Agumon standing? I dunno.
Third one (bad): These are 2 colored backgrounds. The fact that these colors arent' that brighty makes it better, and it almost look like if Agumon was standing somewhere. Still, it's too plain and simple.
Fourth one (good): Well, this is a background, and one that you can actually use, and depending on which one you use, it could end up looking good, but this is a SPRITE COMIC DAMMIT!
Fifth comic (very good): This one is fine. Good background, sprited background, there's no problems at all.
Suggestions when using backgrounds:
No bittage mixing. I don't know how much you like Skull man's stage from Megaman. It's not a reason to put Mario from M&L SS Saga eating Kirby from a GB game.
Try to look for backgrounds that look almost like your character's style.
________
Speech bubbles.
First one (horrible): That black dots on the background are supposed to be what Crypto is saying… can't read it at all, right?
Second one (Very bad): That's better. Still, when using other backgrounds you won't be able to read it, and that sucks.
Third one (bad): So, you made a square, and put text on it. Not centered, empty space, no border… is that supposed to be a speech bubble? NEXT!
Fourth one (good): Well, that's better. It's an addecuate speech bubble. But, let's say that you have 2 characters with similar colors. What would you do?
Firfth one (very good): This one works for all occasions. Weeding, birthdays, trips to Mars. Still, I dislike looking at only white thingies. Let's look deeper.
Sixth one (Awesometastic): Combining the last 2 ones you can make something that looks more alive.
Suggestions for making speech bubbles:
If all your characters look almost the same (like in my comic), it would be better to use the Very good one instead of the Awesometastic, because… well, I just dislike working with only pink.
NEVER place the speech bubbles covering your character's head, specially if your character have emotions.
_______
Panel size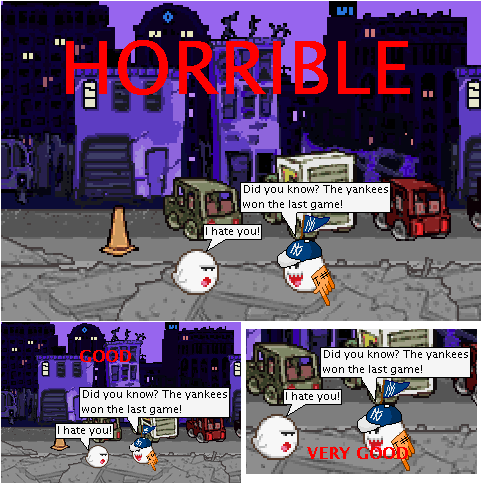 First one (Horrible): There's so much empty space that I spelled the word "HORRIBLE" Using size 55 and there's still much empty space. FTW?
Second one (Good): (I'm sorry if the yankee thingy looks bad. It was made with the sprites' double size, so when rezising it, it looks bad) Well, it looks better. The panel is smaller, and the speech bubbles use the empty space. But this way, people need to get nearer the screen to look at the character's expressions. Give the people what the people want.
Third one (Very good): It fits 100% fine. Don't you think so?
Suggestions for making panels:
If you need more space, consider making bigger panels. Yet, not too big.
For starters, try to make all your panels the same size. Once you get more experience, you will know when to change sizes to make more dynamic comics without much empty space that looks cool, not only rectangles.
_____
Effects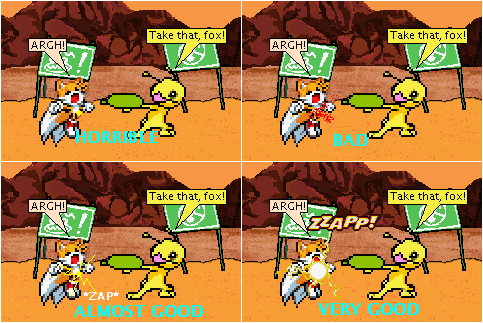 First one (Horrible): See that yellow circle in Tail's chest? It's supposed to be an electric bullet. Repeat. It's SUPPOSED to be an electric bullet. And apparently it have one of those things that prevent it from making noises. Wait. The pistol isn't equiped with that. REJECTED!
Second one (bad): Using the spray tool will never give you good results. NEXT!
Third one (almost good): Well, it looks more like if Tails was getting electryfied, and that's our objective. Look! There's a little *Zap* sound effect. With less noisy sounds it works great, but ZAP!!! Isn't the same a s zap. Okay?
Fourth one (Very good): This one actually shows electricity. And the ZAP onomatopeia makes it look as if Tails was really having a slow and painful death.
Suggestions for making effects:
For really noisy sounds, look for an onomatopeia. If it's not, use words that people can read. Don't worry, this time there's no need for speech bubbles. It's only a small word.
Don't abuse and put 5 or 6 sound effects for a little shot. Dammit.
NEVER EVER EVER EVER EVER use the spray tool to simulate blood. It will never look great.
______
What may come next?
* Expressions
* Grammar
* Panel placing
* Whatever people suggest or comes to my mind later.
Comments, suggestions, requests, everything else (but people suggesting to stop making sprite comics or ranting about them) is welcome.
______
General thinks that you muct know:
* If you don't accept suggestions for your comics, you will stop and won't advance further.
* If you think that you need fancy programs like Photoshop to make excelent comics, you're wrong. When I got photoshop, it took me a week to almost learn how to use some effects on photoshop, and I don't make my comics directly there, since it's so hard. The effects that I know how to make sometimes I forget how to make them. Besides, Irfanview sometimes makes the effects for me easier and faster than photoshop. Want it? Google it.
* Think about your own ideas. Yeah, there are lots of comics. Yeah, there are lots of jokes and plots. But why did you choose to choose the one where Mario is a drugs addict or Sonic looks for the Chaos emeralds? Come on! The human brain's capacity knows no liimits. Think a bit and you'll come with an original idea (unless you're making fun of those plots, it would be more original… nevermind, people already make fun of those plots)
* God Modding characters will guide you soon to your doom.
* "Hi, I'm the author. Everyone here hates me. I can make anything that I want. Everyone, put attention on me and forget about all the other characters". Typical comic author. I have never used one because it's pretty common. But if I wanted to represent myself, I'd represent myself as I AM. I don't have super powers, I can't delete people with mental powers, I can do nothing. I'm a person, not a super hero. In fact, the nearest thing I've had to an author was talking with the characters as a narrator (War of the worms), or sending them letters to mention what happened with whatever was happening (Adventures of a hedgehog, one of my old comics. Not on drunkduck)
* Give your comics the time they diserve. Don't update daily if your going to make 4 panels with no background and bad speech bubbles. In fact, most good comic makers I know spend more than a week between updates. I know that they could update daily, but they are not computer slaves, neither they are payed to make their comics.
* Gay jokes, religion jokes and such should be avoided. I mean, if your comic have gay people on it, it's alright if they act as if they're supposed to act. BUT if you, for example, say "Look. That house is pink. It's too gay. Gays are assholes", then you're dead. With religion is the same. You could mention it or something, but I saw a comic about a Jewish that wanted to kill priests and such to become a pope. Believe me, after the first comic it got canceled.
* I guess that using recolors is good for starters. One you're used to them you can try to edit them, or at least give them clothes. Now that it's done, you could use major edits. If you're too confident of your skills, you could try making custom sprites, but these usually aren't really good. Only some people make sprites that they're proud of using. Example: I don't really like my human sprite's look, but I wanted to represent myself. That's why I have them. But I think that my worms sprites are the best ones I've ever made, and I use them for 2 reasons. One: I'm proud of them. Two: Worms World Party sprites for GBA are just too small to make them have expressions.
* A guy with the nickname of UZ said once: "The first comic is never good". It's up to you to understand that and say if that's right or wrong.
* As I said once "People should not rate comics taking in mind only what's wrong, but it's good aspects too". I mean, lots of people rated sprite comics really bad because they lacked quality. But I started rating them, after a while, taking in mind what they actually put effort on. I mean, people gave 2/10 to some comics, but I gave those 4-5/10, because, even if it wasn't that good, there was an attempt of making speech bubbles and grammar was acceptable, it's borders were okay and such small details.