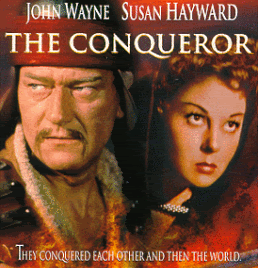 "You are beau-tee-full in your wray-ath"
Worst miscasting ever: John Wayne as Genghis Khan.
-the thing is I saw that film years ago, for the curiosity factor, but also because I really like Genghis and wanted to see a good film about him and that happened to be on TV. I was disappointed. :(
Yes, it
really
happened and he was really as bad as you imagine him to be in that role. Really.
isukun
There is no reason to ever cast him in any movie you want to see succeed.
Like John Wayne, Keanu embodies a sort of elemental position in movies now: he
IS
the sci-fi guy.
That's why they have him in those sorts of movies. He's a big name and he represents Sci-Fi.
Wayne was a big name and he represented tough-guy historical action figures. That's how Hollywood works. It's not about what's right for the movie really, but what's the right way to capture public attention for it; how to
sell
it right…