I was watching my old DVDs of Led Zeppelin, and it occurred to me how skinny they looked… and how a lot of rock bands all looked like that in the 70's. And then I thought about how bands tend to have particular looks in whatever decades. So I made a quick pic of some different decade looks: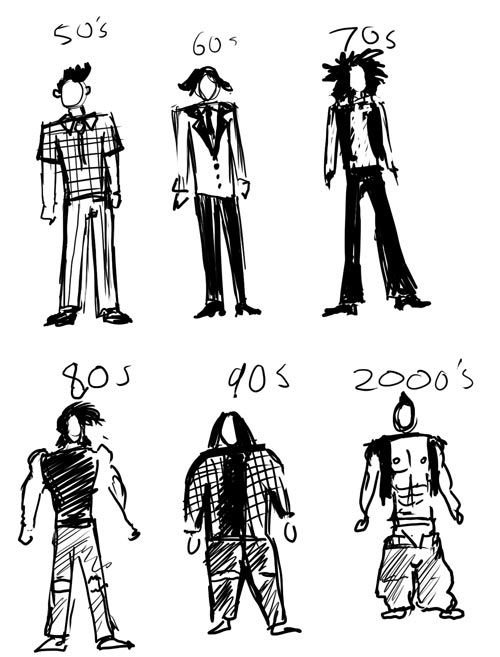 - Big, beefy, neatly dressed roackabillies from the 50's (the term might not be that old, but that's what they were).
- The slimmer moddish look from the 60's with a neat suit and stupid hair.
- Crazy haired skinny, messy people from the 70's.
- Beefy, muscled up, styled haired, "normally" dressed (in a contrived way), people from the 80's.
- Scruffy fatties with lank hair from the 90's.
- Oiled up, overly muscled up, pants falling off, kiddy mowhawk hair from the 2000's.
——–
Obviously that is an
extremely
limited look at things… There are a
LOT
more styles to things in those decades than what I've characterised here. So it'd be interesting if somebody wanted to do an alternative version.