Random Discussion
vampire girl vs frankenstien girl
last edited on July 14, 2011 3:48PM
last edited on July 14, 2011 12:07PM
Kroatz
at 1:59PM, March 24, 2010
The feeling you get, right before you poop.
That's the best feeling in the world.

- Albert Einstein
last edited on July 14, 2011 1:23PM
facara
Running Anew an exercise blog.
I'm gonna love you till the money comes, half of it's gonna be mine someday.
last edited on July 14, 2011 3:30PM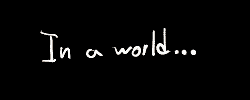 "The only moral it is possible to draw from this story is that one should never throw the letter Q into a privet bush, but unfortunately there are times when it is unavoidable."
-Douglas Adams, The Restaurant At the End of the Universe
last edited on July 14, 2011 4:28PM
Hawk
at 2:02PM, March 25, 2010
You know, I watched the reportedly "so-bad-it's-funny" Machine Girl. And it was just "so-bad-it's-bad." I don't have a whole lot of hope for this one. Or Japanese cinema in general.
last edited on July 14, 2011 12:47PM
In my country the Philippines, we have some buses that show movies on DVD. One time, I was on a bus and they were showing Machine Girl.

They were showing MACHINE GIRL.

In a PUBLIC VEHICLE.

With CHILDREN onboard.
My comics and their REAL ratings:

The Intrepid TORPEDO! - T+

Painkiller - M

ZetaMax - E
last edited on July 14, 2011 3:24PM
©2011 WOWIO, Inc. All Rights Reserved Google+