Comic Talk and General Discussion
What hat do you like the most?!
ROFL!

Nicely done that man!

I'm wearing my awesome hat in my Avatar!
A Ronin writer, a masterless samurai of the written word…
http://www.drunkduck.com/The_Chronicles_of_Wyrden/
Updating: Thursdays. Now in glorious Ink Wash and Water Soluble Pencil! Reva's note: This is not created digitally, it's all hand drawn and inked.
last edited on July 14, 2011 12:12PM
As soon as I get pictures I'm putting them up here.
But my favorite hat is a fedora I have with a Skull and cross bones on it.
My husbands….well…it's really embarrassing for me, but in a cute sort of way…but it's a pink flamingo. Yeap. The legs dangle down on either side of the head and you can tie the under the chin, and from my husbands forehead a long pink neck comes out and stands about a foot in the air. *sighs* He got mad when I wouldn't let him wear it grocery shopping. I'll get pictures…he'll be happy he can share the "awesomeness" that is his "might pink flamingo" hat. *sighs*
Tired of messing with a banner. Just visit the comic at…


www.drunkduck.com/red_poems/
Thanks.
last edited on July 14, 2011 1:27PM
last edited on July 14, 2011 3:33PM
It's my own hat. It's a shame we don't have a Hard Rock Cafe in Seattle. :(
By the time you finish this, you'll have read it. :3

deviantART
last edited on July 14, 2011 1:48PM

www.drunkduck.com/pirateRPG
last edited on July 14, 2011 2:44PM
:) Reminds me of one of my faves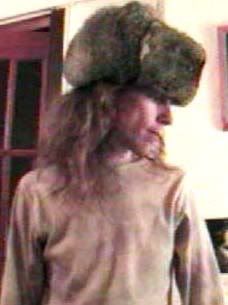 I like ya Chinese star there. I've got a SOviet one on mine but it gets lost in the fur :(
last edited on July 14, 2011 2:30PM
last edited on July 14, 2011 3:35PM
Comics:

Beyond the Deep End

Mysterious Transfer Student
last edited on July 14, 2011 4:36PM
©2011 WOWIO, Inc. All Rights Reserved Google+