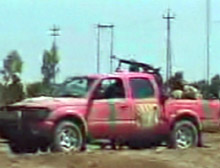 Anything can take them out.
The driver can be sniped or killed easily by small arms fire, An RPG rocket can easily blow that thing up, Roadside bombs and landmines… or even primitive spikes on the road can easily punch holes in its wheels making it stop moving.
Any tank, helicopter, or plane can shred it to pieces.
The guy firing the machine gun is also a sitting duck. There is no way he can evade incoming bullets except by ducking down stomach flat on the back of the truck.
Why are these things still used in battlefields? If its an artillery cannon mounted or an anti-aircraft gun or missile, its still ok. Why a stupid machine gun?
That thing is better made into a car bomb or a suicide truck.