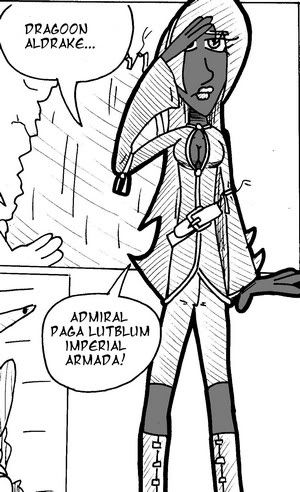 Height 5'2"
Weight 87 lb
Age: 19
Eye Color: Light Purple
Hair Color: Light Purple
Magical Alignment: Green/Bio
Weapon: Draco Axe- A massive axe that's really to big for her to properly use.
Personality: Overbearing,overzealous,emotional,serious,pretentious,loud
Bio: Paga's family is from the floating islands of Bontooki… But she has never been there herself and doesn't know much about it.
Her massive warp energy allowed her to join the military at a young age and quickly climb the ranks. She became one of four flagship captains for the empire with her own personalized battleship. In her normal overzealous fashion she designed The Conquistador to be the largest airship in the sky.
She is actually very well meaning and only takes her job very seriously. Her current mission is to capture the crew of the Desert Sunrise.