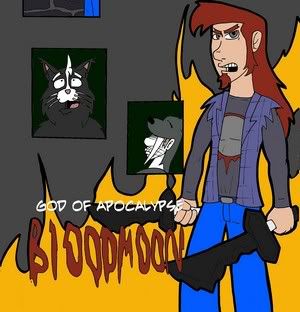 Height 6'2"
Weight 180 lb
Age: Immortal
Eye Color: Blue
Hair Color: Red
Magical Alignment: Orange/Cosmic
Weapon: Apocryphal Blades- The darkest warp energy from the bottom of the Elsyium Sea was used to forge these twin crombolt blades… An enemy who is felled by them cannot return to the living world by any means.
Personality: Lazy,self-centered,crass,hot tempered,fun loving,confident
Bio: Slugo found him imprisoned in the desert. Known for 2 centuries as "The Titan of The Desert" he was put there by Goddess of Destiny Chronah, who happens to be his own mother. It is said that he is destined to bring about the end of life on Caliginus.
At first Will's heart was full of anger and resentment but his relationship with Lilith has changed him considerably.