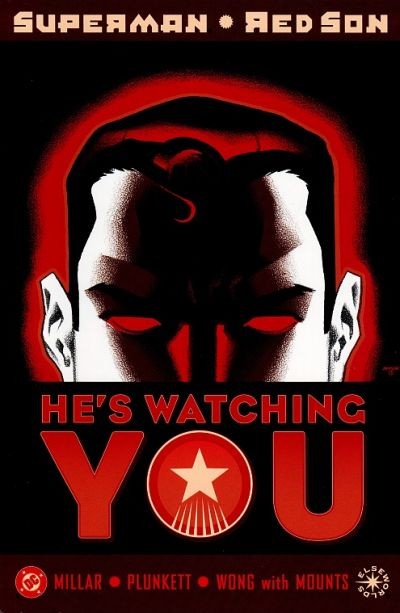 Superman: Red Son
The concept is simple. What if superman landed in a Russian farming commune in the Ukraine, instead of the American mid west? As the cover of the book says "The Great American Icon… Reimagined As A Soviet Hero!".
How is it? Is it just 151 pages of showing how America is Superior? Is it just a pointless what if? Is it just a shallow story that never really looks at the subject matter closely?
NO
It is one of the greatest stories I have read.
This review will be in 5 parts, one for the set up, and 3 for the individual parts, and a conclusion-
Introduction (this post)
Red Son Rising
Red Son Ascendant
Red Son Setting
Conclusion
The Review will also be in red for obvious reasons.
Characters
Superman
- Kal-L. The Main character. He crashes in the Ukraine this time around, and is adopted by Stalin. He takes a much more active approach to world affairs. Is this approach better?
Lex Luthor
- The other Main Character. He doesn't get looked at as much as Superman, but he gets more then many villains would normally get. He is In many ways, the Hero of the story, and this is a prime example of Lex Luthor as an anti-villain.
Supporting characters
Lois Lane
- She's married to Lex Luthor, but it's a dysfunctional marriage.
Jimmy Olsen
- Lex Luthor's partner. I think it was a missed opportunity to make him Russian like a lot of other characters. could have done a lot with how being Superman's Pal is different when Superman is a Soviet Hero. Oh well.
Pyotor Roslov
- Bastard child of Stalin, was in line to become leader, but then superman came along. He is the chief of police, then the head of the KGB. He killed Batman's Parents.
BatMan
- His parents were killed by secret police for passing out anti-superman propaganda, He now works to bring down the totalitarian system.
Wonder Woman
- Joins Superman's side, and they fight, and divert disasters together.
Brainiac
- Put Stalingrad in a bottle while working with Luthor. was defeated by superman, and reprogrammed.
I might add more here later. each part will be it's own post.