………………………
Howdy all. It's been a few years since I seriously worked on my comics, and that's been for a variety of reasons (school, work, lack of motivation, style changing etc.) I've kind of gotten tired of the way I did do them and my ultimate goal was to make a cartoon series out of them.
Well, I hope to start doing that soon (eta 6 months at most), but I can't figure out for the life of me who could play the characters voices. This is where YOU come in.
It'd be great if I could get some people willing to record their voices for the cartoons I'm planning. If you're interested, pick a role or 2 or 3 to voice below, and send an email to zacfreundt(at)gmail.com (replace the at with @ sillys) with the files attached of you acting it up voice wise. Just say the few choice quotes I've got below. You could also free style afterwards too (in character).
I can't pay anyone at the moment, but if I'm pleased after the first one is finished, then maybe we can all work something out.
I'm excited about hearing what you can sound like (moreso finding that right voice for my characters). :o
I'll inform you if you get the role (it may be a week or two, I want plenty of people to give it a shot) I'll shoot scripts out at you guys asap also
I'll say the cut off for submissions is the 25th of December? Sound good?
you can check up on the comics on my account page (though they're quite old and the cartoon probably won't look too similar, though it may give you a more concrete look into the character. I strongly approve of your reading it)
—–Characters—–
Amy: A girl with a headband, easily irritated, bored with life. Age 17-18 Also has "weird dreams" where she's fantastical races (Elf) D: Like okay!
"A propa-what-son?!"
"Life check, one, two, one two. Is anyone up there?"
"What kind of ridiculous name is Problems?"
"Or…how about…you go die in a fire :D"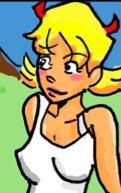 Chrissy: A bubbly, energetic idiot. Though sometimes wise in her care free ness ness ness
"You've got some pretty horrible stuff in here. Seriously, you've got like Superman. Superman blows."
"I'll bet I can shout at him right now and he'd never notice!"
"Whatcha' doin?"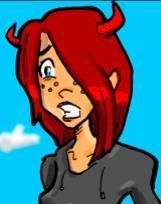 Lucie: A fiery hot headed impulsive girl. Just wants to quit her "job"
"But I like my horns! I..I could just poof people away. Aww, c'mon at least let me keep one. One's not obvious, right?"
"Have you noticed we never get anywhere plot-wise"
"The faster we find her the better. I'll bet she's just wreaking havoc with her new found freedom"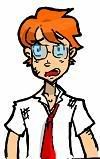 Arthur: Your typical "how'd I get into this situation" guy. Think harem. >_>
"I just know I'm going to die here."
"Uh, sure! Just don't jab me in the eye with your horn…"
"Mom, I'm home. You won't believe the hell of a day I've had"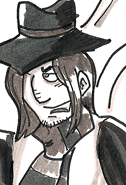 Rodya: He's on a mission, from God.
"Time to take care of fruitcake over there."
"Alright! Let's do this! Here I come, Sis!"
"Shut up, you don't know anything about that!"

Orias: A cocky arrogant, pretty boy evil sonofagun.
"Here's the part where I tell you to take notes, Crat. There's never a wrong time to flirt."
"I'm surprised you stuck around, Rodya. Waiting to sell your sister back again? I'm sure she thinks you're just the sweetest brother."
"Blahblahblahblahblahblahblah" (Make it sound convincing)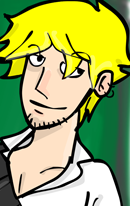 Problems: He know's he's awesome. Smug and totally righteous. Confident and well spoken
"Howitgoin?"
"Relax, I'm coming too. :D"
"We've got to find a way back to her! I was this close to bringing her back out"
Satan - Do I need to describe him?
"I mean the name gives it all away."
"Gabe? More like Gayyybe"
"They're girls…with supernatural powers…and horns. I mean HONESTLY, how HARD can they be to find!"
Minor Characters:
The Professor: You know, that professor quality voice.
"I think with the right tuning, we can listen in to her dreams"
"It's not that she's stuck, per se, it's that she wants to continue to forget."
Crat and Stern
Think Bulk and Skull (lolliterally)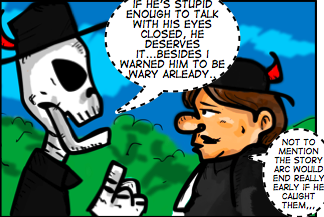 Just use the above quotes. or whatever.
email me zacfreundt(at)gmail.com
reply to the thread also, <3
questions comments regrets