title speaks for itself. after watchin a bunch of shows about haunted houses and stuff like that it's easy to get inspired so what're yer ideas? whatta ya got up yer sleeve?
for the past 4 halloweens i've dressed up in my mask, gas mask leather n denim atire, pretty much all covered up. then a long black wig and chains with various impliments of destruction tied onto em…anything i could find in the tool shed anyways. and last time i lived out here in CT i'd walk up n down the street dragging a shovel around scaring the shit outa people. it was pretty efficient. i just call that character Pit-Face. pit is always happy for this time of year, it's the only time i let it out. also sometimes kids throw candy at me to make me go away. jackpot.
then it dawned on me, Halloween's on a Saturday this year, I GOT ALL DAY TO FUCK WITH PEOPLE! so i wanna come up with a few more costumes and then it hit me. there's a bridge and river running right through town so im gonna dress up like a creepy ass beached mermaid, flop down to the river side and gurgle at people.a la Fiji Mermaid.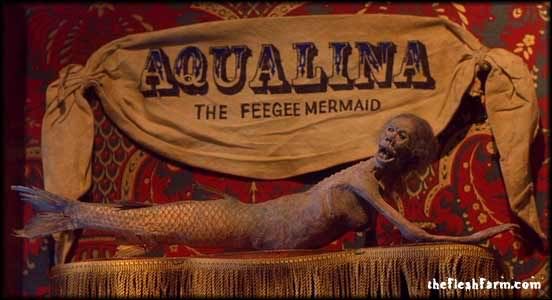 hell if i have enough time and loot, maby i can dress up as some kind of werewolf or creature and run along the road side. gotta watch it though. we all know dogs dont gotta good history with roads.
shit i love this time of year!