I was going to create a whole forum for this, but I found it pointlessly excessive. So, I'll just post it here.
I checked my inbox tonight to find my first Fan Art. And so, I struggled to find a kickass place to show it. This should do nicely.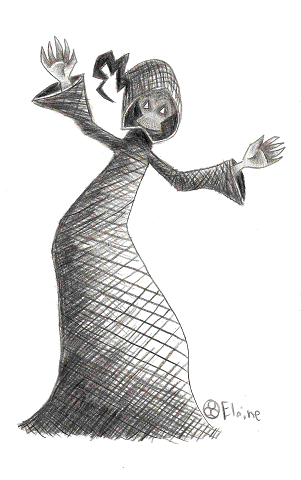 Aside from the cross-hatch shading, which I like and wish I thought of for my own sketches, I love the hood. It's my favorite part to draw (particularly because his body is usually just lines when I do it), and I love the zigzaggy look she put on here. Very "Nightmare Before Christmas." :)
What's really eerie is the symbol she put on her signature there - no lie, but I've actually used that symbol before. The parts not within the circles were black for me, though. I have no idea what it means.
Anyway - this is technically my first fan-art (though a friend of mine doodled out an adorable pic of Melody which I think is now lost). But hopefully with this thread, I might weasel out more from you folks. 8D