HA Characters
last edited on Nov. 16, 2014 7:55AM
The look is very cool. Does he have a background and powers yet?
How about this? I wanted to come up with something a little different to the typical demonic/evil clown.
BACKGROUND
England, 1873


Cyril Black left a job as a farmhand to pursue his lifelong dream to become a clown in the circus and make people laugh. Unfortunately, despite his best efforts, Cyril continued to be a profoundly unfunny man.


Cyril came from a family conversant in the old ways and, in desperation, he turned to the Fair Folk for aid. Always ones to enjoy a good laugh at another's expense, they granted Cyril his wish.


Now, whenever an area is in desperate need of laughter, Cyril may emerge from the mists connecting the fae realm to our own to offer his special brand of assistance.


POWERS


Anyone Cyril looks at or talks to will laugh uncontrollably, starting with a shuddering belly laugh and proceeding to totally incapacitating curled-up-on-the-ground-dear-god-please-make-it-stop wracking, trembling hysterical laughter. The laughing stops after a couple of hours or when the victim's heart gives out. Usually the latter. It will also stop if Cyril returns to the mists.


Cyril is impervious to harm. If incapacitated or imprisoned for an extended period he will simply fade away to re-emerge from the mists at a later date.


WEAKNESSES


If Cyril himself can be made to laugh, then he will return to the fae realm (I envision this as looking like Pacman dying (which would look hecka gross when done to a human being rather than a yellow hockey puck with a mouth)).


Unfortunately, what Cyril finds amusing can be very unpredictable. He had a very poor grasp of humour even *before* the fae messed with him.


His laughter will shatter the mask covering his mouth sending shards everywhere and creating a loud boom that will cause walls to tremble and shatter glass.


PERSONALITY


Cyril seems genuinely oblivious to the harm he is causing. Whether this is due to a glamour the fae have put upon him or if he simply snapped as a result of his circumstances is unknown.


Cyril speaks in a mumble due to the cold iron mask locked in place across his mouth. He is unable to remove it and it only comes loose when he laughs. However, it will have returned when he next appears.


In practice, Cyril is closer to an oblivious force of nature than an individual who can be reasoned with.
Huh an interesting idea. And I rather like it.
I never envisioned him as a demonic clown though, more of a mixture of Alex of Clockwork orange but I really really like this idea.
Though perhaps I need to redesign him though, maybe maybe him look more like a clown of the 1873 or 1900's?
This was created in Hero Machine 3. I try to come as close as poseble to yours. could not chop up the hat or put the colors to the way you had it.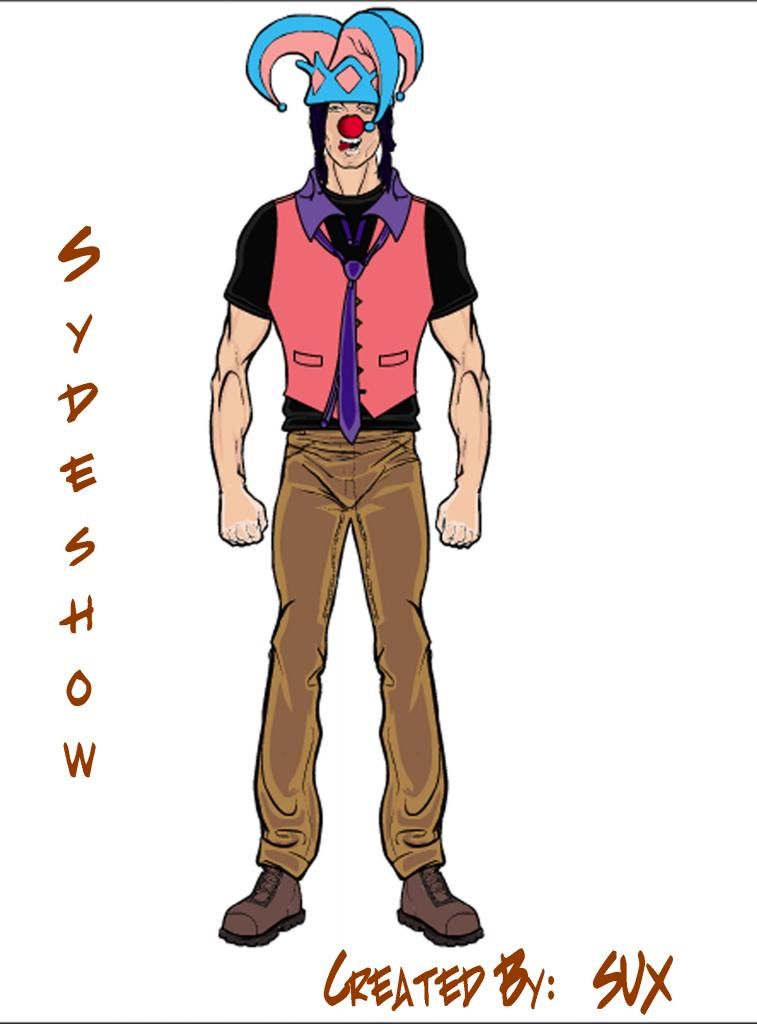 I hope you like it…not an exact but close. just want to hear what you have to say about this image.
I was tossing up between the 19th century and 16th centuries for his origin. I only really went with 19th because the word "sideshow" is a recent one. But there's no reason he couldn't be a lot older than his current name. "Sydeshow" could just be what the media tagged him during one of his appearances. Or his 'urban legend' name.
I wouldn't redo him to be more clownlike. His current look is nice and distinctive.
LoL. I'm beginning to think you're having a steamy affair with HeroMachine, CD! xD

I know it's partly just SUX's art style, but Sydeshow looks short and squat in the original picture and IMO that suits him better than the tall, gangly look.
irrevenant wrote:
LoL. I'm beginning to think you're having a steamy affair with HeroMachine, CD! xD

I know it's partly just SUX's art style, but Sydeshow looks short and squat in the original picture and IMO that suits him better than the tall, gangly look.

HA, can't say that I didn't try. I can make make him short. over all I'm just showing options.
bingo choo choo Ka boom.
I love the design of this character and couldn't resist and sketched this up in my hour break. I went a little skinnier and more insane on the image. I'll probably have time to draw a much better version over the weekend.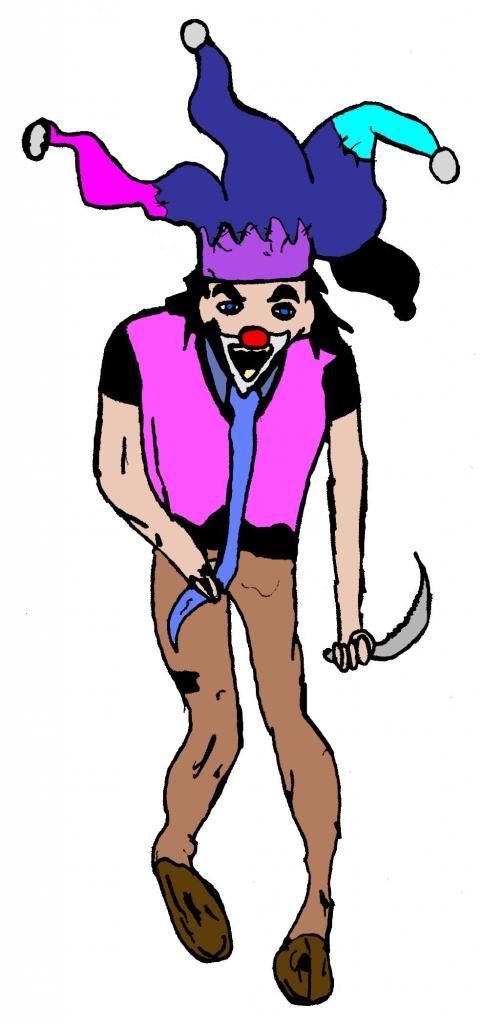 I'm liking quite a lot about this character…his creepiness factor particularly cranks up to 11 with him turning to mist, too. I've come up with a few more ideas power-wise, feel free to/to not use them.
- Expanding on irrevenents input already, except the uncontrollable laughing only occurs when Sydeshow is touching the person. As soon as he is removed off the person, they will stop laughing.
- Sydeshow is an excellent hand-to-hand combatant and is
very
quick and dangerous. He wields two small knives.
- Sydeshow, as well as being able to turn to mist, is able to multiply and create more versions of himself. If the "real" version is rendered unconscious, however, the copies fade with him.
Stop looking at my signature and read my comics!!
That makes him sound like a creepy clown ninja and it's brillant XD
LoL, yeah, it's interesting what disparate character ideas your picture has inspired. It'd be cool if you did a few more "Here's a picture, now describe the character" posts.

My version of Sydeshow is a tragic, oblivious villain who makes for a more mystical, one-off tale.

Ironhand's version is actively malevolent and probably has a lot more mileage in him - he could appear as a recurring villain.

Ironhand has also scaled down his power to invoke laughing, which makes him more manageable for the heroes, whereas I was going more for a terrifying force of nature feel where he leaves a trail of victims slowly laughing themselves to death in his wake and it's very difficult for heroes to approach him, let alone fight him. It would be unlikely to be a victory they would attain via brute force.

I prefer mine, but I might be a tiny bit biased for some reason. ;) Ironhand's has tons of story potential.

LOVE Ironhand's picture. BTW, think it's a trick of the art, but I kinda want to see Sydeshow with one lame leg now…

P.S. I interpretted that thing across his mouth as a hannibal lecter mask. Was that the intent?
Correct it is a Lecter style mask that he painted white and has a red nose glued onto it.
And I might do that with some of the random named heroes and villains I made a while back so I'll see about putting them up here.
©2011 WOWIO, Inc. All Rights Reserved Google+