I am guessing the server move is over because the forums are back up and most things seem to be working! I have no idea whether the move was successful or not- we haven't heard anything yet from the guys at Platinum. I'm sure if something has gone wrong there will be another newspost sooner or later!

To the people who PQed me this weekend about 'why can't I update my comic?'- I'm not answering you, it was in a lot of newsposts. T_T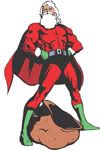 Drunk Duck Secret Santa submissions are coming in! Check them out, lots of great pics there from one DDer to another! One of my favorite community projects. :]

Also there are lots of new interviews just waiting to be read in the Interviews forum! I know we have had a lot of them this month, but I think they're fun to read and each one turns out to be interesting and different! There's no new ones this week, so take the opportunity to catch up on the ones already posted! And I'm sure the participants would love any replies a reader makes!

Milestones!


dueeast


Off Hours

has finally had its 100th page! We're heading towards the conclusion, but there's a few twists and turns along the way before we get there.
Off Hours is a great collective comic and/or community project, I'm glad to see it has lasted so long!
4bit FPS has a double dose of news! (I like things in 'doubles' around the holidays, myself)… Both
12 Men Died Making This Strip
and
Achievement Wh0rz
have turned
25
comics old! (On the 16th and 18th, respectively.) He adds, "It makes me happy because its been 50 comcs total with nary a twitch of apathy :-D" Apathy is the comic-making-killer!
KAM's
The KAMics
has reached a massive
1050
pages as of December 17th!
If you are a fan of strange haircuts then you will be happy to know that:
Phillby


Monkeyshine

has just reached page 23, and counting the cover page and an extra un-numbered page that makes 25!

And it only took 10 months.
I know a couple people sent me today newsposts to try and include, but I'd put this together on Sunday because I knew it would be 1am here before I was able to make the newspost. :] Sorry!