Thanksgiving is here! It's that one day of the year when being grateful and sappy is OK, you're allowed to fall asleep watching TV all day, and everyone sits down to a big spaghetti dinner flavored with family arguments.

You folks not in America, you can do like me, make spaghetti and skip out on the rest.

I've got a 4-course meal of news for you!

First we have a selection of appetizers in the form of contests!



harkovast has announced The Ultimate Harko-Quiz 2- Hark Harder. "Basically it is an impossibly difficult quiz relating to my comic to win some fan art." It really is impossibly difficult, he asks questions about stuff that hasn't even shown up in the comic yet. It's fun to go and make nonsense guesses, maybe he awards points for creativity?



mamaya94, who translates Pink Lady from Korean (I think) into English for a whole new language to enjoy, is holding a fan art contest! The details are on this page, but the gist is that you draw up some fan art of Pink Lady, send it, and winners get Pink Lady merchandise as prizes! It will end in late December!


Then comes some soup! Hot and delicious! Actually I think this one is a cold soup. Or maybe it's a salad.


legomegacy
Just wanted to pass on that after 4 years I am ending the

"My Sister" Series

. The 3d Manga magic epic starts its last series on 1/1/10 with My Sister the Awakening.
Over the past four years the series (Including the forth coming one) Has had 8 titles (all on the duck) and will have published over 1000 pages! I am sad to see it end but the story always had a start middle and finish. The series titles read in this order.
My Sister the Demon
Eclipse
My Sister the Goddess
My sister the Witch
The LIfe death and rebirth of Elicia
My Sister the Damned
Pieces of 8
My Sister the Awakening
OK! This part is the main course I guess, or something? I'm getting bored with this analogy!
stubblemonkey
Just a quick message to point out that my strip

Tales of the Sly Ditt Inn

reaches 50 strips this coming saturday, 29th November. Quick point though, the name of the strip is the name of the pub in the strip which doesn't have any 'adult' undertones or humour. In fact the name of the pub is a pun which will be revealled in my longest plot arc starting sometime early next year.
cbacolo's
spacefighters on Earth
turned
75
pages old Monday!
Reaching
100
pages on Friday is marionic's
DrunkDuck Poop
!
Blitzkrieg1701


Conventional Wisdom

, the comic about what REALLY goes on inside anime conventions, just shot past 100 pages with it's latest update! (current page count: 102) And with a new, weekly update schedule starting next week, the next milestones will hopefully take far less time to reach than this one did.
Stickfodder tells me that
PolkOut
(by Polkster, with Stickfodder assisting) has reached its
200
th comic!
And then a couple of hours later, Stickfodder realized that
STICKFODDER
had its
275
th comic last Saturday!
Dessert, dessert… hm…. uhm… I'm sure there was something… oh yes!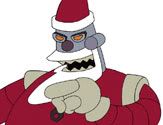 Robot Santa wants YOU to sign up for
Drunk Duck Secret Santa 2009
! One more week to sign up (and then 2 or 3 weeks to draw your part)!