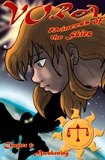 Sarah Liebowitz doesn't have the best life, but she does what she can. He mother is slowly dying from mesothelioma, and Sarah has to work to pay for her treatment and go to night school at night to catch up on her education.
But things are about to change for young Sarah. One fateful night at school, when the lights suddenly went out, something happened to change her life.
Vora Princess of the Skies is just starting up again after a very long hiatus, so hopefully there should be some bright shiny regular new updates! The art is stylised and a bit cartoony, but nicely characterised and it full colour. The story is just beginning but flows nicely.
By Tempest_Lavalle, rated E.

Read Vora Princess of the Skies!