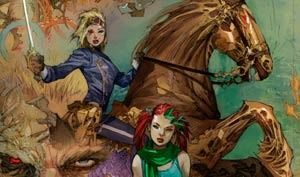 Top Cow Productions is doing an interesting Kickstarter project for the 20th Anniversary of Marc Silvestri's comic Cyber Force.
The idea is to be able to produce and offer a modern re-imagined, updated version of Cyber Force as a totally free monthly print comic for 5 issues- one whole story arc, in full colour, free!
The objective is to get more people into reading comics again, because it's free, but also have them coming back for the next issue and so on, because that's free as well, to encourage people to go to their book shop or comic shop and look for the next issue… and hopefully have them branch out into other comics and take up the comic habit again, or maybe for the first time!
Crafty ;)

But also a worthy goal for anyone that cares about comics, especially the old fashioned print kind!

Cyber force-
It's a SciFi bio-cybernetic steampunk themed work, in that there's a lot of super high technology, but it's also mixed with some older fashioned equipment and a classical 19th style aesthetic to uniforms and personal weaponry. It's about a group of cybernetically enhanced rebel freedom-fighters who're on the run from a massive corporate behemoth bent on total control.