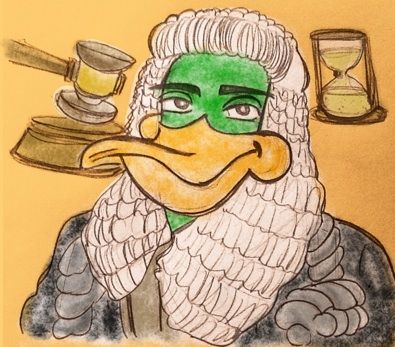 Good day, mates!
One of the benefits of being a part of a webcomic community is that you are able to participate in a variety of community projects! Lucky for you, December is turning out to be a busy month for community projects with both the DD Awards and Secret Santa looking at a Christmas Deadline. So what are you waiting for?

COMMUNITY PROJECTS

2013 DD AWARDS
"Plenty of time still, people." -bravo1102

A brand new system of "Midnight Judging" has been established to help round out the votes for the awards.
=> If you have officially volunteered for the awards and have access to the off-site JNP Awards Forum, then report to the "Create Your Own Award/Midnight Judging Forum" for Instructions.
=> If you can not see or access the forums, you have not signed up to be a judge.
=> For any ducks still interested in judging for the awards, you can post in the awards forum: http://www.justnopoint.com/drunkduck/forum/index.php?
topic=142459.0 and Niccea will add you.
=> For any ducks who do not have membership yet and can not access the JNP Award Forum: First, sign up for the forum. Then PQ Niccea or send an email to 2013awards (at) JustNoPoint (dot) com so your account can be verified.

IMPORANT ANNOUNCEMENT: A CALL FOR AWARDS PRESENTERS
Presenters are still needed to make awards pages to anounce the winners. Imagine an awards show without the presenters. Now imagine one with a presenter in every category. Which one is more awesome? If you have a pen or pencil, have some artistic muscle, and know how to put together a page for a webcomic, then you are already overqualified. Send Niccea a PQ and show your interest!

If you are unfamiliar with the awards and want to learn more, you can hear the discussion on Quackcast #143: 2013 DD Awards Reboot
.::.
2013 SECRET SANTA: LIVE FREE OR SANTA HARD
Reashi has returned again this Holiday Season as the Supreme Overseer aka Project Manager of the non-denominational Secret Santa Art Trade. So if you appreciate Reashi's random references to Die Hard movie titles or enjoy receiving art as a gift, then you should head over to the Networking/Community Project Forum to sign up!

http://www.theduckwebcomics.com/forum/topic/175944/

Here is a run down of the Secret Santa Timeline:
Deadline to Sign-Up: Sunday, December 15 (Days Left: 6)
Deadline to Complete Drawing: Wednesday, December 25 (Days Left: 16)
.::.
CHEESE AND QUACKERS: ( ´ ▽ ` ) A DD Joke of the Day ( ´ ▽ ` )
Did you guys hear about that couple that met in a revolving door? They went out together.

.::.
What's Quacking?
Do you have any announcements, community projects, ideas, news, or milestones to report? Please leave general comments below or send a PQ to kawaiidaigakusei. Email kawaiidaigakusei at kawaiidaigakusei@gmail.com.