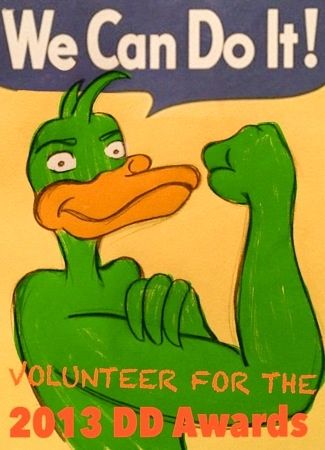 Hello Inebriated Quackers and Ducklings!

2013 DD AWARDS
Niccea has an important announcement:
We have decided to go for it and see if we can get the full amount of fanfare done. However, we lost some people due to the craziness. If you are interested in volunteering, please report to the awards forum.

If you were unable to volunteer for the awards three months ago, now is your chance to sign up! This is a great opportunity to make new friends with a team of people who are very passionate about the awards.

Please lend your support and join the discussion in the forum: 2013 Take Two

COMICOMPOSITE: A WEEKLY ART CHALLENGE
Three randomly generated words will be posted on Monday each week. Draw a picture or comic that uses those words (dialogue or inferred). Email kawaiidaigakusei@gmail.com the finished product by Sunday night. All submissions will be posted the following week.

Words for November 18-November 24
DONUT
HERMIT
DIABOLIC

I am interested in YOUR submissions!

CHEESE AND QUACKERS
( ´ ▽ ` ) A DD Joke of the Day ( ´ ▽ ` )

Q: Where do you find a down-and-out octopus?
A: On squid row!!

What's Quacking?
Do you have any announcements, community projects, ideas, comicomposites, jokes, news, or milestones to report? Please leave general comments below or send a PQ to kawaiidaigakusei

Email kawaiidaigakusei at kawaiidaigakusei@gmail.com.