I would like to think that webcomic creators have a different way to see the world. A fresh perspective through rose coloured glasses can soften the realities of the day-to-day. Maybe an artistic touch is all we need to stay content.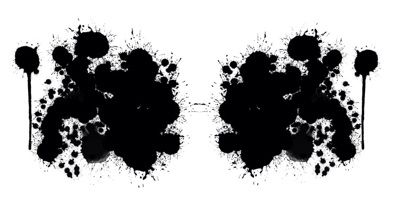 This week I created an original inkblot in the style of a Rorschach test to see if anyone can make any images out of it. This is not an official test and I am not a psychiatrist. I just thought it would be fun to stretch your creative eye muscles a bit and see if you can find a very original shape.

I participated to see if I could make out anything from the ink and here are my results: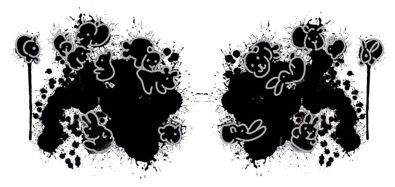 Yes, I saw a cloud of cute floating rabbits, bears, and hamsters. Does this mean I am carefree?

What did YOU see? Jot down your notes in the comments section!

.::.

NEWS!!



The Dragon Fists of Smorty Smythe by meemjar is back on DD and up for sale in print and in full blazing color through IndyPlanet.

.::.



After requests to have A Deviant Mind return to TheDuck, houseofmuses is having a reader's poll to reach a consensus. TIME IS LIMITED: This poll will run through April 30, 2014!
Cast your vote at the link: http://www.houseofthemuses.com/adeviantmind/2014/04/04/opinion-poll/

.::.
What's Quacking?
Do you have any announcements, community projects, ideas, news, or milestones to report? Please leave general comments below or send a PQ to kawaiidaigakusei. Email me at kawaiidaigakusei@gmail.com.