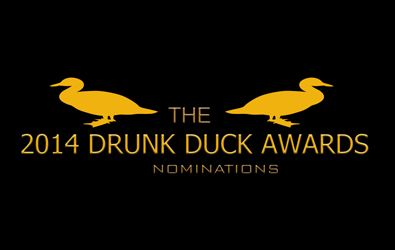 Hear ye, Hear ye!

After the long and arduous journey of seeking voting nominations for the annual Drunk Duck Awards, the official list of finalists has been released just in time for the judges to deliberate over the final outcome of the awards. This is also a reminder for everyone who signed up to be an awards judge this year to monitor the Judge Forum for any updates. VOLUNTEER JUDGES ARE STILL WELCOME TO JOIN! The more the merrier, just create an account on the judges forum. In addition, if you have been listed as a nominee, then you can pick up your official badge on the Drunk Duck Awards Pages. These badges are for you to show off on your own comic page, on your forum signature, or you can print them up and tack them on your wall.

**Oh yes, and when you see Niccea around the site, please give her a big shoutout of appreciation because she is totally being a superstar for handling the awards. Thank you, Niccea, for all the work you have put into the awards!!

Without further ado, the official list of award nominees:


2014 DRUNK DUCK AWARDS
Link: http://www.theduckwebcomics.com/Drunk_Duck_Awards_2014/

THE FINALISTS

GENRE AWARDS
Link: http://www.theduckwebcomics.com/Drunk_Duck_Awards_2014/5464186/

Best Adventure Comic
Demon's Mirror
DeadFingers
The Pirate Balthasar

Best Adult-Oriented Comic
Busty Solar
Dark Sisters
Rimjob

Best All-Ages Comic
Chevalier
Fusion
Life and Death

Best Anthropomorphic Comic
Equsopia
Harkovast
Keeping Up With Thursday

Best Community Project
Heroes Alliance
Lite Bites

Best Fantasy Comic
Charby the Vampirate
Magical Misfits
Modest Medusa
Rettubia

Best Horror Comic
Interstellar Blood Beasts
Monster Soup

Best Humor Comic
Everyone Laughs at the Crocodile Man
Life and Death
Modest Medusa
Typical Strange

Best Mystery/Crime/Noir Comic
Red Velvet Requiem
The Dragon Fists of Smorty Smythe
Used Books

Best Parody/Tribute Comic
Misadventures of Classic Megaman
My Parents are Nobodies
Rimjob

Best Philosophical/Political Comic
A Reasonable Case
Without Moonlight

Best Science Fiction Comic
Dead Fingers
Jupiter
Supermassive Black Hole A Star
The Godstrain

Best Superhero Comic
Capefall
Dasien
Fusion


STYLE AWARDS
Link: http://www.theduckwebcomics.com/Drunk_Duck_Awards_2014/5464190/

Best 3D/Poser Comic
B.A.S.O.
Lore

Best Action Within a Comic
Dasien
Heroes Alliance
Project GTH
The Godstrain

Most Deliciously Offensive Comic
Busty Solar
My Parents Are Nobodies
Putrid Meat


TECHNICAL AWARDS
Link: http://www.theduckwebcomics.com/Drunk_Duck_Awards_2014/5464192/

Best Background Art
Dead Fingers
Monster Soup

Best Character Design
Blazhut
Danielle Dark
DeadFingers
Monster Soup

Best Comic Layouts
Monster Soup
The Godstrain

Best Dialogue
Capefall
DeadFingers
The Godstrain

Best Plot Development
DeadFingers
The Godstrain

Best Use of Medium
CapeFall
Interstellar Blood Beasts
Jupiter
Monster Soup
Techniplex

Most Improved Art
Dasien
Modest Medusa
Used Books

CHARACTERS, USERS, and the BIG ONES
Link: http://www.theduckwebcomics.com/Drunk_Duck_Awards_2014/5464193/

CHARACTER AWARDS

Best Protagonists
Steve from Life and Death
Mindmistress from Mindmistress
Tiziana from Tiziana
Kimber Lee from the Godstrain

Best Supporting Character
Half Pint from B.A.S.O.
Parker from Dasien
Basil from Without Moonlight

USER AWARDS

Outstanding Achievement Within the Community
Banes
irrevenant
Niccea
ozoneocean


Most Supportive Reader
Banes
El Cid
KimLuster

THE BIG ONES

Best Completed Comic
Interstellar Blood Beasts
Rimjob

Best Overall Comic Strip
Life and Death
Modest Medusa
The KAMics

Best Overall Story Comic
DeadFingers
Heroes Alliance
Mindmistress

Congratulations to all the nominations this year.



MILESTONE





Blue Strawberry fields forever! This delightfully intriguing comic by Eduds had just made it to the 225 page milestone. The once featured, Blue Strawberry, showcases original 8-bit styled art. I would highly advise that you flip through the archive. The updates are pretty hilarious.

Link: http://www.theduckwebcomics.com/Blue_Strawberry/


.::.
What's Quacking?
Do you have any original art to contribute to our stock image database, announcements, community projects, ideas, news, or milestones to report? Please leave general comments below or send a PQ to kawaiidaigakusei. Email me at kawaiidaigakusei(at)gmail(dot)com.