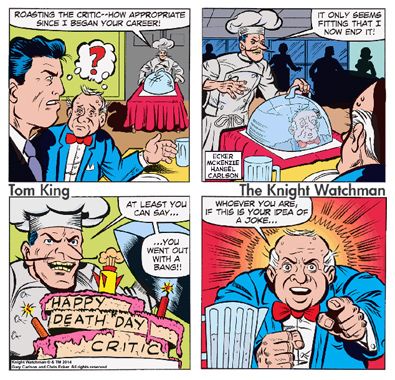 Summary:
The Knight Watchman is a delightfully retro styled superhero comic! Take a blast back to the days of the old style superheroes of the 1950s, where good guys really are good and they look after young male wards who're scrappy fighters with hearts of gold. In this caper the Knight Watchman must face off against a mad bomber cook who has it in for a nasty old food critic.
The style here is an action superhero story in a classic newspaper style 3 panel strip. It's drawn with pen and ink and then digitally coloured with bright, primary, non-shaded tones (mostly), just like old style cheap magazine comics. This story is a real romp!

Read The Knight Watchman in The Crime Cook, by bigbangcomics, rated E.