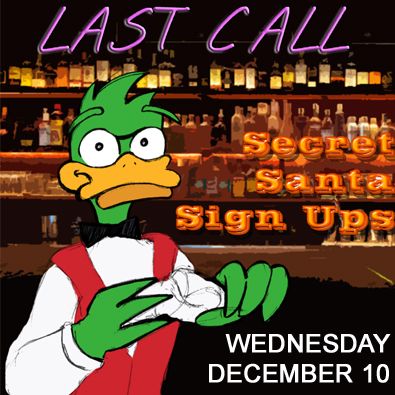 SECRET SANTA 2014
The deadline is quickly approaching and HippieVan would like to send out a friendly reminder that Wednesday, December 10th, is the last day to sign up and participate in this year's Secret Santa drawing gift exchange.

Signing up is easy, all you have to do is:

1. Say on the forum that you would like to participate.
2. Include what type of drawing you wish to receive this year.
3. If you are feeling extra generous, sign up for the "Dead Beat Watch" committee to draw art for anyone who slacks off.
4. Make sure you sign-up on/before Wednesday, December 10th to guarantee a drawing.

HippieVan will sort out the names and PQ them to each participant later on this week.

What are you waiting for? Sign-up and have fun!

Link: http://theduckwebcomics.com/forum/topic/176725/


TRADITIONAL HOLIDAY RECIPE

This week's traditional recipe is for pizzelles (traditional Italian waffle cookies). Pizzelles are pretty near and dear to me because these cookies were always baked in my house mostly around Christmas time. It was probably inspired by the Italian bakeries in Northern Ohio where my family lived. One of the trademark characteristics of these cookies is the flower or snowflake pattern stamped on top of them with the pizzelle iron. It is very difficult to make them without a pizzelle iron, but they can be found for sale at local thrift stores after a little hunting. These cookies are delicious on their own or with tea and coffee.

Christmas Pizzelles
6 Eggs
1 1/2 Cups of sugar
1 Cup of margarine (2 sticks)
2 Tablespoons of vanilla of anise
3 1/2 Cups of flour
4 teaspoons of baking powder

.::.
What's Quacking?
Do you have any original art to contribute to our stock image database, announcements, community projects, ideas, news, or milestones to report? Please leave general comments below or send a PQ to kawaiidaigakusei. Email me at kawaiidaigakusei(at)gmail(dot)com.