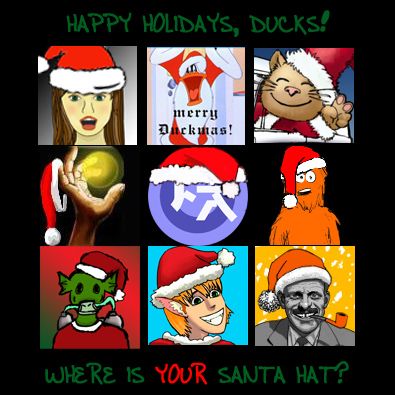 This week, everyone's favorite jolly ole elf will be coming to town. That's right, I am talking about Saint Nicholas, Father Christmas, Kris Kringle, but mainly Santa Claus. In order to prepare, there has been an on going Secret Santa art exchange in the forums where the Christmas spirit is very much alive.

SECRET SANTA 2014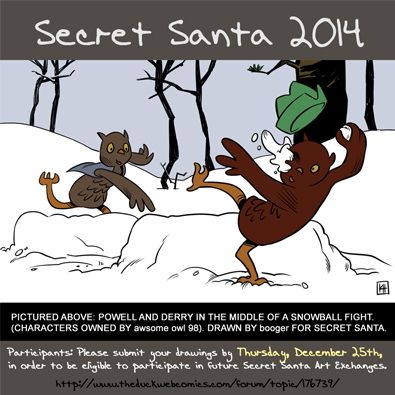 You do not need to be a participant to peruse the Secret Santa forum discussion. In fact, please do check it out and you may be inspired to participate in future projects.

Forum Link: http://www.theduckwebcomics.com/forum/topic/176739/

Niccea has already begun uploading comic pages to the Secret Santa Community Project comic page. So turn in your artwork to get your gifts cemented in Drunk Duck history!

Comic Link: http://www.theduckwebcomics.com/Drunk_Duck_Gift_Exchanges/

QUACKCAST

Banes has posted a topic asking for user participation for a year in review asking about highlights of 2014.

Please head on over to the forums and contribute how the year of comic making, comic reading and/or life in general has been this past year. Did you create some of the stuff you wanted? Were there some comics on The Duck that you just can not stop talking about? What do you look forward to in the year ahead?

If you share your thoughts in the forum, you get a chance to have your words read aloud in various voices!!

Forum Link: http://www.theduckwebcomics.com/forum/topic/176746/


FUN HOLIDAY FACT!

Did you know that you can actually send Santa Snail Mail? I am not joking. Santa loves getting letters from people all over the world. His address in Canada is:
Santa Claus
North Pole H0H 0H0
CANADA

.::.
What's Quacking?
Do you have any original art to contribute to our stock image database, announcements, community projects, ideas, news, or milestones to report? Please leave general comments below or send a PQ to kawaiidaigakusei. Email me at kawaiidaigakusei(at)gmail(dot)com.