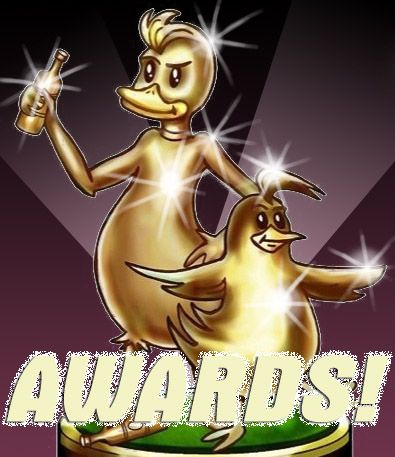 VOTE FOR YOUR FAVOURITE DD COMICS!

In case you missed it in Monday's newspost, the ballots for the 2014 Drunk Duck Awards are now open! To submit your votes for all of the categories, fill out the form here: https://docs.google.com/forms/d/1vjIsp6KWl43eaIQXO79JmHxayf7DgOEq_2h0Bi77ktc/
Voting is open until July 27.

The Awards still need judges, presenters and other contributors. To volunteer or find out how you can be involved, PQ Niccea or check out the forum thread here: http://theduckwebcomics.com/forum/topic/176206/


QUACKCAST

For QuackCast 180-ish, Banes wants to talk about themes.
Does your comic have an intentional theme? Did a theme just kinda happen? Do you think an overall meaning is important to a comic? Let us know!
http://theduckwebcomics.com/forum/topic/176212/


—

Have a comic milestone, a community project or some comic-related news that you'd like to see in a newspost? Send it to me via PQ or at hippievannews(at)gmail.com!