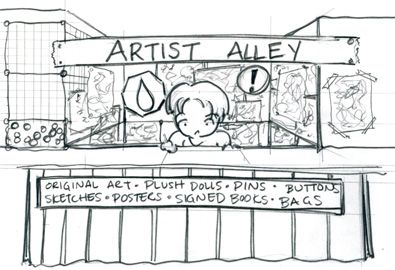 Here's the Scene:
Palms are sweating, the convention doors are about to open. Every plush doll, button, glossy 12"x24" poster is hanging around the overpriced booth that was paid for with a year's worth of savings. Welcome to the Artist Alley, where it is always a game of every man for himself to sell the most merchandise.

In last Friday's newspost, HippieVan brought up a topic that has been on my mind since the last convention I attended: Preparing a merchandise booth at a convention to showcase webcomic work for profit. One of the benefits about being a creative person is the creation of beautiful works of art that can be exchanged for money (crazy idea, right?) However, the idea of selling comic swag or putting a monetary value on the endless hours of work can be really hard since original work and ideas are difficult to price. There is an entire business side of the art world that deals with making a profit from artwork. It takes a somewhat outgoing personality type to sell any product and it only gets more challenging when that product is very personal and sentimental like original art.

My experience at a con comes soley from the buyer's perspective as I have no experience setting up a booth at a convention. Sometimes I come across an artist sitting in a booth completely shrouded with the most brilliant pieces of artwork so I can automatically tell that they are a genius without even a word, but after about five minutes of admiring their work, there is no eye contact, no quick "hello", or interest in selling that I end up being drawn to a booth with a more outgoing vendor. One time I was so impressed by the art style pinned on the boards of one booth that I sought out the artist, asked if she drew the work, and all I received was a small nod.

Some artists are fortunate enough to be a natural salesman, but as a fact of life, every artist does not have the personality to be a salesman. There is a charm to artists who are very shy or nervous about the work they create because the work tends to be introspective and they obviously focus on their work. Though, in order to justify the amount of money paid for a booth at a convention, pretending to be a salesman for a few hours could not hurt.

I am really curious to hear from anyone who has experience working behind an artist booth at a convention. Is it difficult to engage prospective buyers with the product? Is it easier to draw the entire time or to talk to people about the work? How challenging is it to put a price tag on original artwork?

—

Have you heard of HollowQuest?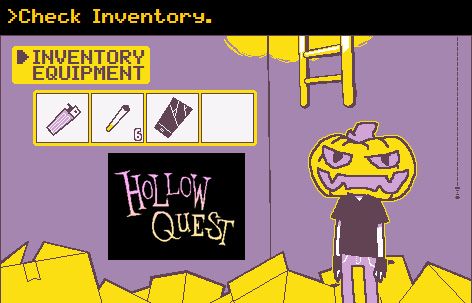 For any fans of the old school 8-bit games like Hugo's House of Horrors or Maniac Mansion, this webcomic might be right up your alley! junkbondtrader has created a comic where user comments directly effect the course of the story. It is actually a pretty fun concept where the community can actually alter the comic outcome!

Link: http://www.theduckwebcomics.com/HollowQuest/

.::.
What's Quacking?
Do you have any original art to contribute to our stock image database, announcements, community projects, ideas, news, or milestones to report? Please leave general comments below or send a PQ to kawaiidaigakusei. Email me at kawaiidaigakusei(at)gmail(dot)com.