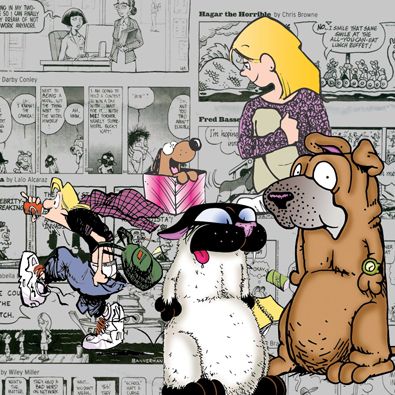 Sometime after the events of 9/11, my family signed up for our first printed newspaper subscription to keep up with the world headlines. I was a high school sophomore at the time and in order to take my mind off of the United State's imminent involvement in an unpopular overseas war, I turned to the daily comic section. It was a relatively young local newspaper that was started in 1995, but it did not reduce the quality of its comic selection.

Print comics like Get Fuzzy (Darby Conley), Luann (Greg Evans), and Zits (Jerry Scott & Jim Borgman) impacted my life at a time when being a teenager was overshadowed by tumultuous times. I looked forward to each continuous Monday through Friday storyline with a fully colored two-paneled strip on Sunday. The relationship between Get Fuzzy's Bucky and Satchel taught me that arguments are a part of any friendship; Luann was a relatable female figure as well as a more inspired and updated version of Cathy; Jeremy of Zits helped me navigate through high school life and taught me that I was a "normal teenager" by having to juggle school with my social life.

I am thankful for the humor section in printed newspapers. Comics have the potential to influence and inspire younger readers. In this instance, reading newspaper comics whet my appetite for reading webcomics. Regrettably, the local newspaper in my hometown lost momentum around 2008, laid off its staff, and shut down in early 2013. I'll take a shot in the dark that my local newspaper was not the only one of its kind to close down in the last decade in a favored move toward digital media.

Out of curiosity, I did a quick search for my favorite print comics of yesteryear and found them currently updating as syndicated online comics. This is when I fell into a bit of a conundrum about the difference between syndicated print comics, syndicated online comics, and non-syndicated online comics. Technically, the only reason I knew about most of these titles was because they were created during a time that online comics were less common. There is a trend for webcomics to move from the digital format to printed materials while comic titles originally in a print format have been transitioning to a digital format for years. I used to think that webcomics and print comics were in a heated rivalry without realizing that times have been changing all along.

It is kind of a shame, though, I am still partial to printed newspapers and peeling back the comics page to pore over the two-page spread of the funnies while eating cereal for breakfast.

.::.
What's Quacking?
Do you have any original art to contribute to our stock image database, announcements, community projects, ideas, news, or milestones to report? Please leave general comments below or send a PQ to kawaiidaigakusei. Email me at kawaiidaigakusei(at)gmail(dot)com.