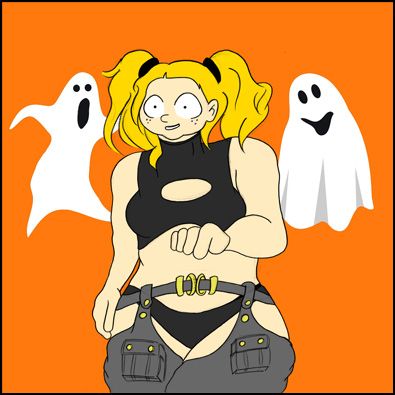 It is finally October which means the smell of maple spice, burning firewood, and pumpkin pie fill the air. After having grown up with the Peanuts' "It's the Great Pumpkin, Charlie Brown" and Ray Bradbury's book "The October Country", I understand how much this month is cherished. Fall is my favorite season, afterall, so I have decided to do something festive this year.

Over the years, Halloween has been celebrated on Drunk Duck by many DDers as a beloved holiday. There have been scary themed Quackcasts around our own frightening experiences and some comic creators elect to take a break from their regular storyline to tell a Hallows' Eve vignette.

So the other day I was trying to brainstorm something innovative to do for Halloween 2014 and the idea to draw original characters from comics hosted on Drunk Duck wearing original costume designs from other comics on Drunk Duck made perfect sense! So here's the deal. For the weeks leading up to Halloween, I am going to pick some characters and draw them dressed in another character's outfit.

It will be up to the community to guess both:
1) The name of the character drawn
2) The name of the comic from where the outfit originates

If you leave a comment or PQ me the correct answers, then you will get a special prize (like a custom mini badge or something).

I usually do not take drawing requests, but if you are the first person to send in a response, you can send me an idea for the next character/costume combination to use in the next newspost.

COMIC MEGA-MILESTONE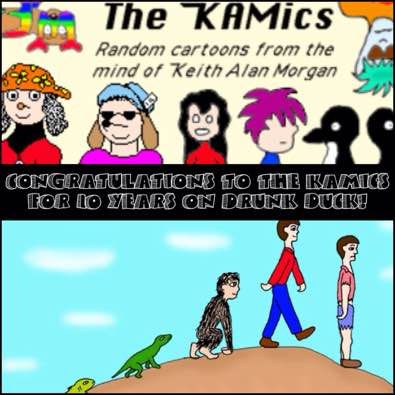 Early Congratulations to KAM! On October 11th The KAMics will be celebrating its 10th Anniversary. KAM says, "What a long, strange strip it's been." Go ahead and read the KAMics, a comic about random cartoons and series from the mind of Keith Alan Morgan updates Mondays, Wednesdays & Fridays, (except when it doesn't).

Link: http://www.theduckwebcomics.com/The_KAMics/

.::.
What's Quacking?
Do you have any original art to contribute to our stock image database, announcements, community projects, ideas, news, or milestones to report? Please leave general comments below or send a PQ to kawaiidaigakusei. Email me at kawaiidaigakusei(at)gmail(dot)com.