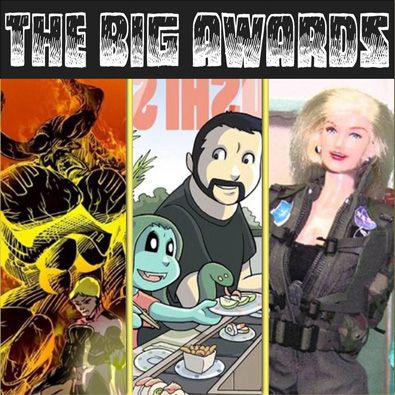 No, this not "The Big One" earthquake that is supposed to wreak havoc on Los Angeles one day. Today's newspost is to shine a spotlight on the winners of the three coveted DD Awards spots that Niccea likes to call "The Big Ones". The last day for awards announcements was last Friday, but you can still check out the on going submissions for extras and acceptance speeches. The last day to submit any extras is this Wednesday (October 1st). Niccea says, "First of all, I would like to thank everyone for their hard work this year. This was the smoothest that the awards had ever run during my tenre as the MC. We weren't exactly turning volunteers away, but people were quick to offer help when asked. So, thank you."

There is also a new forum up on the DD Awards Forum to debrief the 2014 Awards and jumpstart the 2015 Awards!!
Link: http://www.theduckwebcomics.com/forum/topic/176572/

This year, the awards have gone to three outstanding comics that are very deserving of community recognition, so without any further ado, let us put our hands together for the winners of the 2014 Drunk Duck Award "Big Ones".

WINNER for the BEST COMPLETED COMIC!!
Interstellar Blood Beasts by bravo1102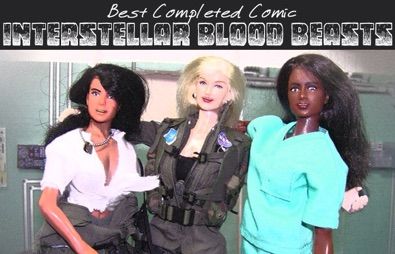 Critics Acclaim

Bravo takes his time building each set and he takes the time at the beginning to show his process. Bravo has experience in stage craft and he is one of the few Drunk Duckers I know who actually creates his backgrounds in this way.

Interstellar also makes such a great use of the medium (photo comic, pose-able dolls). Since the category is 'completed' comic I have to go with Interstellar because it was a full story told to completion.

Bravo has also made a departure from just taking photographs from his shooting schedule and piecing them together because in this comic, there is a lot of photoshop editing making some of the story look 2D with enhanced details.

This story also went easy on the topless dolls, which Battle of the Robofemoids is well known for. It is a more mature version of a B-Movie, as Bravo likes to describe it.

WINNER for the OVERALL STORY COMIC!!
Heroes Alliance by Abt_Nihil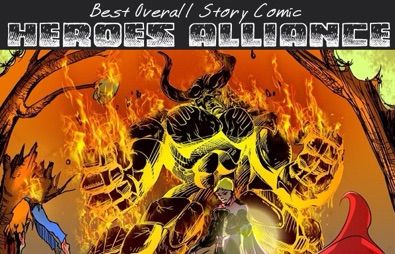 Critics Acclaim

The cast is a "Who's Who" of Drunk Duck superheroes, and HA offers massive superhero action along with plenty of laughs. It's also very well written, has good pacing, and it's easy to jump into as a new reader.

The pages are drawn with a general story in mind as if a script is already written. Each page has a different inker, colorist, and sometimes sketch artist. With a concept like this, it takes a lot of story preplanning in order for it not to get out of hand.

It's fun! I was surprised by how little it bothered me that there were so many different artists. The characters are always immediately recognizable, and that's all that really matters.



WINNER for the OVERALL COMIC STRIP!!
Modest Medusa by Jake Richmond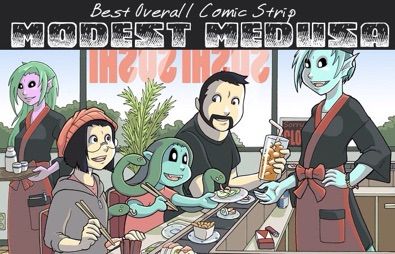 Critics Acclaim

A polished, super-consistent piece of work. It's the only DD comic I know of that strikes such a good balance between standalone strips and ongoing story arcs.

The characters are instantly likable and I fell in love with Modest Medusa right away. The artwork is top notch with a distinctive style that is professional and enjoyable.

Every page has its own payoff, whether the punchline is a piece of dialogue or one of Medusa's astonished/baffled facial expressions. Sweet, charming, fantastic.

.::.
What's Quacking?
Do you have any original art to contribute to our stock image database, announcements, community projects, ideas, news, or milestones to report? Please leave general comments below or send a PQ to kawaiidaigakusei. Email me at kawaiidaigakusei(at)gmail(dot)com.