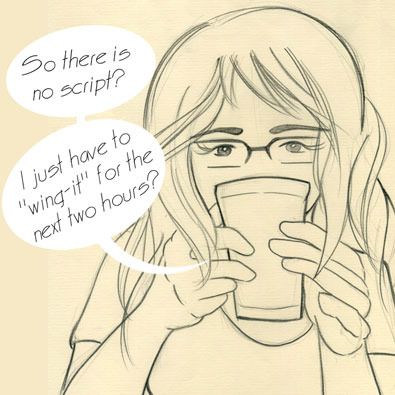 There is a slightly odd trend in screenwriting for indie films called Mumblecore where the actors are given a very minimal to non-existent script to work from and are forced into creating natural dialogue on the spot. I believe the director has a general story outline of where he or she wants the characters to end up, but the tiny nuances of conversations are given to the actors. It is a liberating way to create a film. It is also a hit-or-miss genre for film viewers.

There have already been previous Quackcast discussion topics and a tutorial on tips for Blake Snyder's Save the Cat! screen writing method (compliments to Banes). Screenwriting definitely does have its perks for organization and making the most of the limited comic panels for more fully fleshed out dialogue.

Realistically, I feel there is a time at the start of any budding comic creator's career when comic pages are created with very little structure and the dialogue is made up right on the spot and the bubbles get filled in randomly after the panels are drawn. Many beginner comics share many dialogue similarities with Mumblecore films. Eventually the comic writer enters a crossroads to either begin drafting more thought-out outlines with rough sketches for pages or continue down the random road of whimsical comic creation.

When I first ventured into comics, I was very much accustomed to the "Mumblecomics" school of thought where I had a loose plan of where I wanted the story to end up in ten pages without any clear road map to get there. After more time and dedication started being poured into each comic page, I decided to create really rough outlines with the character poses in a smaller notebook before starting a new page and the final pages ended up being really tight with advanced dialogue.

It is difficult to compare the two creation methods and select a superior style because it all depends on whether the goal is to create a gag-a-day comic strip versus a comic story. The Mumblecore technique applies to both styles and it will guarantee a small, yet devoted following of indie readers (that is, until your comic gets too cool and goes mainstream).


FORUM DISCUSSION TOPICS

Please Contribute to this Week's Popular Forum Topics:


The process of creation


No more spammy ads?! Patreon brainstorming thread!


EARTH DAY

Earth Day is Wednesday, April 22, 2015. Celebrate it by heading to the Fashion Forums and adding to the Earth Month fashion collection!

April 2015 Thread Trends: FASHION OF EARTHLY DELIGHTS: An Earth Day Gala

.::.
What's Quacking?
Do you have any original art to contribute to our stock image database, announcements, community projects, ideas, news, or milestones to report? Please leave general comments below or send a PQ to kawaiidaigakusei. Email me at kawaiidaigakusei(at)gmail(dot)com.