It is finally Spring in many parts of the world. It is actually Summer in some of the luckier parts and it is still snowing in certain regions (apologies Northeastern United States). Whatever the case, this is the time of year that people like to throw away old stuff and clean up. I never fully understood the concept of Spring cleaning because I always end up with with the same do-dads that I had prior to Winter.

Spring cleaning can also be applied to webcomics. Thanks to the Quail's Random category on the front page, I have favourited many promising webcomics that had really cool art and a budding story plot and then the comic stopped updating or the creator vanished into thin air. I went through some of the really old comics I had favourited over the years, but like an old sweater with sentimental value, I could not remove them from my favourites list because they had that certain something.

So in my attempt at a webcomic Spring Cleaning, these were some titles that I could not let go because let's face it, once you lose a link to a webcomic on Drunk Duck, it disappears back into the ether only to reappear on Quail's Random out of the blue by chance.

The requirements necessary to be on this list were sort of like a game:
-The comic's last update had to be before 07 July 2011
-The page count had to be less than ten pages
-The comic's quality had to be engaging enough in its short time span that I wanted to save it under my favourites
-The comics have never been featured before

.:.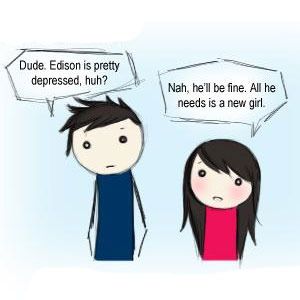 Bitter by Jodie
Tagline: "Memoirs of a badass (Me!)"

Bitter is an adorable comic and the simple stick figures express more emotions than usual stick figure comics. This comic is a slice of life of the daily conversations between the main character and her boyfriend as they talk on the phone, hang out, or get stuck in the rain.

Page count before abandonment: 8

.:.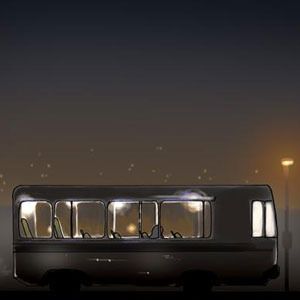 Wordsworth by Wandering Muse
Tagline: "A short story about friendship."

This comic's art and storyline were very serious and if it were to have continued a few more pages, it would have been a sure fit for a featured comic. There were a lot of exterior and interior views of public transportation and beautiful drawings of flowers.

Page count before abandonment: 9

.:.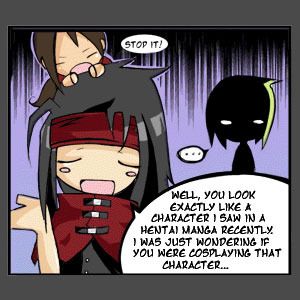 Steps by pro_studio
Tagline: "What does one get when a bit of sarcasm (okay, maybe more than a bit) is thrown in together with bumbling carelessness, sheer bimbotism along with a good measure of wit, fluttering eyelashes and besotted boys? You have Steps!"

Immediately after the end of school, a couple of private school students end up heading to a Cosplay convention. Pretty much the whole comic is about convention attendees who like to observe and loudly judge the costumes of other convention goers.


Page count before abandonment: 6

.:.



Mundane and Mirthful by DiZiXtOiD
Tagline: "A web comic aimed to highlight every day things that we fail to realize in the modern day society and realize the happiness that we could be experiencing if we just took life just a little bit slower. Mundane can be Mirthful."

This very simple art comic focuses on two characters: An orange dinosaur and a little girl in a green onesie. There is very little (if any) dialogue, but the dinosaur has a way of conveying its agitation or feelings with a tiny speech bubble.

Page count before abandonment: 4

.:.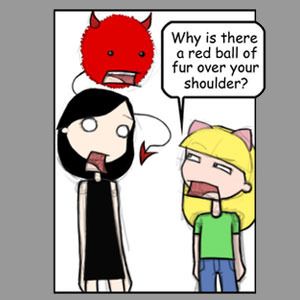 EMOgirl by Veddabredda
Tagline: "This comic exists within itself… The frames are windows into the white space that is the comic. I'm not very good at summing up. Basically, this has some plot, and a lot of stupid jokes."

The are only three characters in EMOgirl- a grumpy cat girl, a red furball of EVIL, and the EMOgirl with black hair. Pretty much, this little red demon ball appears out of nowhere (or boredom) and his name is Eric.

Page count before abandonment: 5

.:.

MILESTONE





JustNoPoint's The Devon Legacy reached 50 pages last week!

Link: http://www.theduckwebcomics.com/The_Devon_Legacy/


FASHION FORUM!!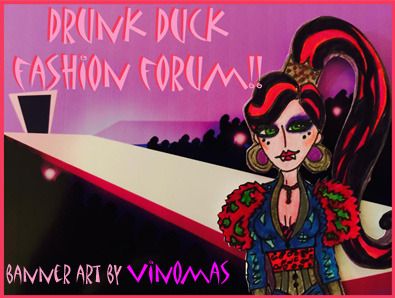 Check out all the new Paper Dolls available to be fitted this week!
Link: theduckwebcomics.com/forum/13117/

.::.
What's Quacking?
Do you have any original art to contribute to our stock image database, announcements, community projects, ideas, news, or milestones to report? Please leave general comments below or send a PQ to kawaiidaigakusei. Email me at kawaiidaigakusei(at)gmail(dot)com.