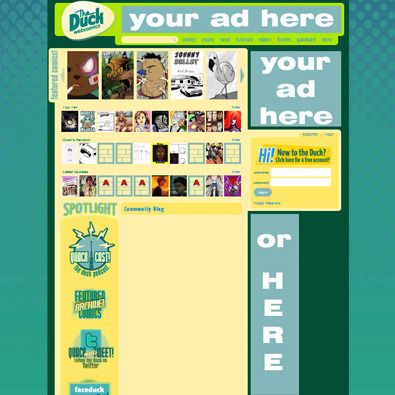 In the event that you missed last week's pretty big announcement- EVERYONE now has a chance to get their own ad banners on the front page of Drunk Duck through Project Wonderful! The ads are not limited to the front page as they appear on every page of the forums and webcomics, so that is some mega advertising. The ads do not even need to link back to Drunk Duck comics, they can be for major projects, Kickstarters, or your own website.

Personally, I do not usually click on ads, but I click on the banners of familiar comics that I know from Drunk Duck like Used Books, The Errant Apprentice, The Devon Legacy, and Skullbie's Kickstarter for Starlight Vega. It is pretty awesome to see that level of exposure and promotion of webcomics through a webcomic host site.


DRUNK DUCK AWARDS

Niccea wants the whole community to come to the Drunk Duck Awards planning thread! There are some more categories that need some hammering out. Please come by and deposit your two cents and help out the awards.

http://www.theduckwebcomics.com/forum/topic/176572/?page=2#2978995


THE DRUNK DUCK FASHION FORUM



-Art by Drunk Duck's neighborhood VinoMas.

Get pumped (and your high-heeled pumps) for Summer 2015's Drunk Duck Pageant!

HippieVan is also hosting a contest for Historical Fashion through the Ages. You can check it out here:

http://theduckwebcomics.com/forum/topic/176867/


.::.
What's Quacking?
Do you have any original art to contribute to our stock image database, announcements, community projects, ideas, news, or milestones to report? Please leave general comments below or send a PQ to kawaiidaigakusei. Email me at kawaiidaigakusei(at)gmail(dot)com.