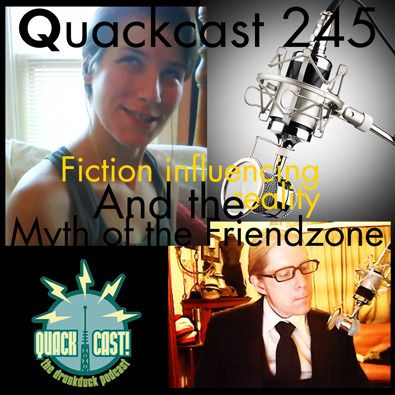 LISTEN!

In Quackcast 245 we TRY to talk about my idea that fictional characters, stereotypes, tropes and situations in media have influenced their counterparts in reality, and in a lot of ways helped to create them. Fictional stereotypes and tropes are made out of simplified models of things that happen in reality, usually by pulling together all the most dramatic, big, bold versions and then turning them up to 11 to make a new, more exciting fictional caricature, that NEW image is then spread far and wide and influences people to imitate it- a good example being the modern "cowboy". This idea was kicked off by Pitface suggesting one of my characters looked like a douchey friendzoned character. I thought about it and realised that a real life version of this character (who's mooning over a girl in a relationship with another guy), WOULD be exactly as she described, also those characters are common to relationship comedies and so often friendzoned… SO that got me thinking: could the current crop of "nice guy" fedora friendzone exponents have based their crazy theories about relationships on images in the media? -since they don't have much relationship to reality yet they so closely match pre-existing tropes in movies and TV shows. Then we expanded the idea to other examples of media representations influencing reality.
Pitface, Banes, and Tantz Aerine join me on the Quackcast. Gunwallace does a lovely theme for Entanglement.

Topics and shownotes

Featured comic:
0Uuzarus0Redemption - http://www.theduckwebcomics.com/0Uuzarus0Redemption_/

Links:
Based on this thread - http://www.theduckwebcomics.com/forum/topic/177381/

Special thanks to:
Gunwallace - http://www.virtuallycomics.com
Banes - http://www.theduckwebcomics.com/user/Banes/
Pitface- http://www.theduckwebcomics.com/user/PIT_FACE/
Tantz Aerine - http://www.theduckwebcomics.com/Without_Moonlight/
Kawaiidaigakusei - http://www.theduckwebcomics.com/user/kawaiidaigakusei/

The theme song by Gunwallace this week was for:
Entanglement - http://www.theduckwebcomics.com/Entanglement/ by TenorAnathema, rated M.