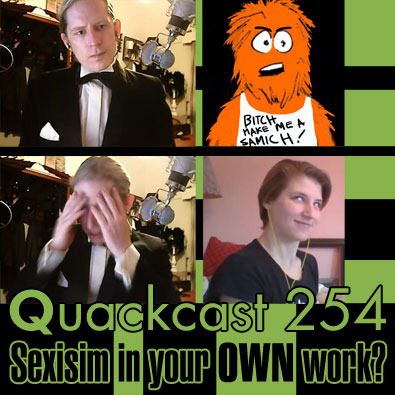 LISTEN!

OMFG you sexist PIG! Heh… today we talk about trying to recognise sexism in your OWN work, what to do about it, and WHY. It turns out it can be very hard to do, and if you DO acknowledged it the instinct is to rationalise it away, justify it, or just try and brazen it out in some kind of old fashioned, largely embarrassing, display. I frequently do all three.

How do we spot it? Well the Bechdel test isn't that useful, that's better for looking at broad trends not giving specific works a pass/fail - sexy outfits is one thing, if females are dressed minimally or in tight gear in CONTRAST to the males or vice versa - females ONLY having old stereotype roles (maiden/mother/whore archetypes, secretary, nurse, victim, maid etc), though this is context sensitive, i.e. it's more forgiveable if you're doing a historical story or something stylised like a fairytale or a noire story - Gender balance is another thing, it's context sensitive because certain stories will naturally have more of one gender (WW2 submarine crew, Girl's school, a prison story etc), and you don't have to have an exact balance anyway but it's definitely something to THINK about because there is no reason most stories should feature a majority of male characters and a minority of females.

WHY should you think about it? Why should you care? Well the audience for almost ALL types of stories, be they action adventure, romance, Scifi, fantasy, historical, even porn, is getting close to 50/50 between men and women these days (maybe it always was?), it really doesn't make sense to alienate or belittle half your audience just because you like to cling to older ways of doing stuff.

Gunwallace's theme this week reminds me of a cross between the Knightrider theme and Gunship- it's VERY retro-future. It's the theme to DDSR, a comic with cool custom "sprites", AKA pixel-art.

Topics and shownotes

Featured comic:
Unbroken Seal - http://www.theduckwebcomics.com/Unbroken_Seal/

Links:
Quackcast 254 VIDEO - https://youtu.be/tv1shC_0KD4
Original thread: http://www.theduckwebcomics.com/forum/topic/177407/?page=1

Special thanks to:
Gunwallace - http://www.virtuallycomics.com
Banes - http://www.theduckwebcomics.com/user/Banes/
Pitface - http://www.theduckwebcomics.com/user/PIT_FACE/

The theme song by Gunwallace this week was for:
DDSR - http://www.theduckwebcomics.com/DDSR/ by RazorD9 rated T.