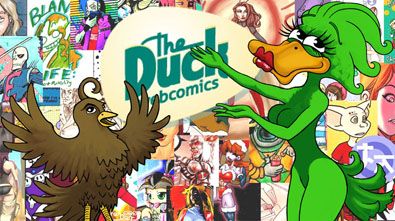 Our Indiegogo funding drive is NOW live:
https://www.indiegogo.com/projects/drunk-duck-webcomics-improvement-drive/x/4410947#/
Help fund us there, offer your services for a perk (commissions etc), or just help us spread the word!

FINALLY Drunk Duck is on the way to improving! But we really need your help, the help of our fabulous community of creators, readers and contributors to help make DD the great site that it SHOULD be.
I've set up this Indiegogo campaign in order to pay for a programmer to add features to the site and squish the annoying bugs. You can even suggest your own ideas for new features to add or bugs you'd like fixed.

DD is 100% controlled by its own community now, no corporates are holding us back, getting in the way and slowly killing us anymore. There is NOTHING in the way of us making improvements and becoming great again. Help us fix one of the very oldest and best webcomic hosting community sites on the internet.

We'll add more perks for donors as we think of them as as we get artists to agree to them like commissions, cameos in comics, custom wallpapers, sketch cards, original donated art and so on.
You can already get cool stuff like your own Quackcast interview, Ads in our Project Wonderful space, Mentions in the newsposts, your very OWN featured newspost just promoting you alone and much more.

Also let us know if you have something you'd like to donate as a perk!